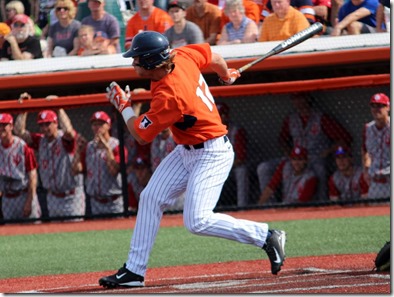 David Kerian bangs out a 2-run triple in the first inning
Saturday's game versus Indiana was almost a mirror image of Friday's.  Indiana scored in the top half of the first then Illinois responded in the bottom half of the first.  Illini pitching held and the offense bolstered the lead.  With another solid effort by starter Drasen Johnson, #11 Illinois (32-6-1) came out top 6-3, winning its 13th game in a row. 
This time, Indiana capitalized on some admittedly sloppy play in the field in the first.  Two errors led to two Hoosier runs giving them the lead.  Once again, it didn't take long for the Illini to respond.  With two outs, Illinois put together a 4-run rally in the bottom of the inning.  After two walks and singles by Casey Fletcher and Pat McInerney, David Kerian's triple capped the rally with a two-run triple. 
| | | |
| --- | --- | --- |
| Game #39 / April 18, 2015 | | |
| | vs | |
| 6 | | 3 |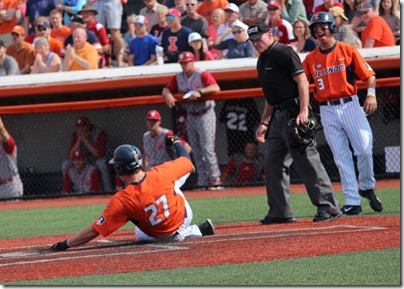 4 for 4 Pat McInerney touches home plate in the first inning rally
Illinois added to their 4-3 lead in the sixth inning.  Once again with two outs, Ryne Roper singled and Adam Walton walked and presto! they had another rally going.  Ryan Nagle came though with an rbi double to score Roper and Walton scored on a Hoosier error.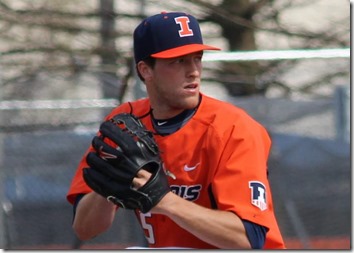 Meanwhile, starter Drasen Johnson was pitching strong.  In fact, Coach Hartleb was confident enough to let him complete the game.  Drasen has been a workhorse this year.  He now averages 7.4 IP per game.  On Saturday, he only allowed seven hits and just two earned runs while striking out six Hoosiers.  Typical Drasen, he only walked one batter today. 
Pat McInerney was hot today.  He went 4 for 4 and drove home a key run in the first inning and subsequently scored.  
Random Ramblings
Photos from today's win are up in the IBR photo gallery.
There something different in the air at Illinois Field.  There are more people attending games.  Not only are people responding to the PA-induced chants but they're starting their own.  I find myself high-fiving other Illini fans that I don't even know.  It's just that time of year in that kind of season. 
I'd love to be a fly on the proverbial wall during this friendly conversation that happened between at-bats between former Illini shortstop and current Indiana assistant coach Shawn Roof and David Kerian…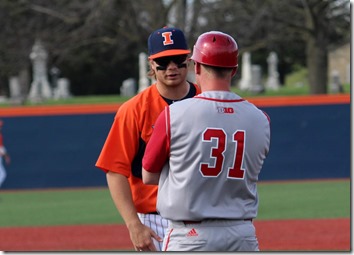 Next up
The Illini will go for the sweep against Indiana on Sunday at Illinois Field.  The game is scheduled for noon but keep an eye on the Fighting Illini website or @IlliniBaseball on Twitter in case it gets re-scheduled due to impending weather.  John Kravetz is the probable starter for the Illini. 
Way to go, Illini!
Related posts