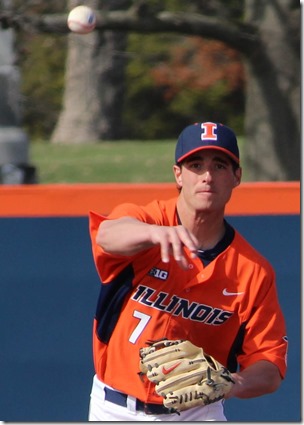 Reid Roper has a team-leading 37 rbis
With a 10-1 blowout victory on Friday and a record setting 15-inning win on Saturday, #8 Illinois (35-6-1) baseball took the first two games at Medlar Field against Penn State to extend their winning streak to 16 games. 
With the win, Illinois keeps hold on first place in the Big Ten conference.  They have now won 10 games against conference opponents.  Their loss against Michigan State on March 29th was the last time they were defeated by a B1G team.  For that matter, it was the last time they were beaten by ANY team.
| | | |
| --- | --- | --- |
| Game #41 / April 24, 2015 | | |
| | vs | |
| 10 | | 1 |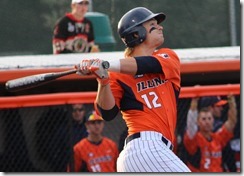 David Kerian and Reid Roper both drove home four rbis to spur the offense on Friday night.  Kerian's rbis all came on one swing.  He hit a grand slam in the third inning to put the Illini up 6-1.  Roper's dinger came in the sixth when he slammed a two-run shot to right field. 
Meanwhile, Kevin Duchene still manages to see his ERA dip.  In six innings, he gave up one unearned run on five hits and zero walks.  His ERA now stands at 0.74 to lead the Illini. 
| | | |
| --- | --- | --- |
| Game #42 / April 25, 2015 | | |
| | vs | |
| 4 | | 2 |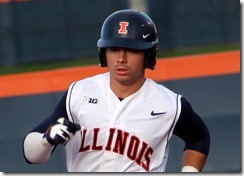 Illinois baseball had a marathon session of their own during their contest with Penn State.  It took 15 innings but Illinois finally defeated them 4-2.  Tied 2-2, the Illini rallied in the top of the 15th inning.  With the bases loaded and one out, Penn State nailed Ryne Roper at the plate on a fielder's choice giving the Nits some hope they could get out of the inning.  However, Casey Fletcher (3 for 6) came through with a rbi base hit scoring Ryan Nagle.  Penn State didn't help themselves when a passed ball scored Reid Roper. 
Blackburn who pitched the 14th inning finished out the game and got his second win of the season.  He was perfect for two innings with three strikeouts. Starter Drasen Johnson put in a fantastic performance once again.  Like Duchene on Friday, he allowed just one run but it was unearned.  His ERA is down to 2.11. 
Tyler Jay saw his longest outing of the year when he lasted six innings.  He gave up a run on six hits and struck out seven.  Today was only the second game this season that Jay has allowed a run.  You'll need a microscope to see his ERA too.  It's at 0.78. 
Today's 15-inning game is the longest game played in Coach Dan Hartleb's tenure.
Random Ramblings
As of last Tuesday's game against Eastern, I have over 1,200 photos from the 2015 season uploaded to the Illinois Baseball Report photo gallery.
With all the successes of this year's team, I don't want to forget some of our alums.  Last week, former Illini SS Thomas Lindauer hit his first homer for the Class A Quad City Bandits.  For his effort, he gets his photo in the local paper.   
At some point, Lindauer will be facing former Illini pitcher Ronnie Muck who is now pitching for the Burlington Bees also in the Midwest League. Muck is starting off right with the Bees.  He's struck out 12 in 6 1/3 innings.   
Next up
The Illini will finish up against Penn State on Sunday.  It will be a 9am game so get up early if you want to watch or follow the game.  John Kravetz will be on hill for the good guys.
Way to go, Illini!
Related posts