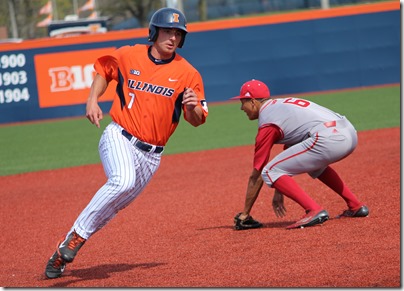 Reid Roper hopes to add to his team-leading 38 rbis this weekend
This weekend, two ranked Big Ten baseball teams are facing off. It's being billed as the Clash in Columbus.  #6 ranked Illinois (37-6-1, 13-1 Big Ten) and #23 Ohio State (31-10, 12-3 Big Ten) are taking on each other in what is probably the most significant series for either team so far this season.  Each team has so much to gain from the potential success so you know that the pressure is on. 

The Fighting Illini weekend preview is up!  Scheduled starters for the Illini:

Friday  Kevin Duchene: 7-1, 0.74 ERA
Saturday  Drasen Johnson: 6-2, 2.11 ERA
Sunday  John Kravetz: 4-0, 2.92 ERA
Nick Swisher Field at Bill Davis Stadium

 

Columbus, Ohio

Fri. May 1

5:35 pm CT

Sat. May 2

2:05 pm CT

Sun. May 3

12:05 pm CT

vs

W-L: 31-10 Big Ten 12-3
My take on Ohio State
Currently on a six game winning streak, the Buckeyes have finally peaked the interest of the pollsters.  As well they should.  Their 31-10 overall record and 12-3 conference mark is laudable and that's with a four-game losing streak thrown in. 
You won't find pitchers with sub-1.00 ERAs on the Ohio State squad but generally speaking, their pitching is almost on par with the Fighting Illini (I said ALMOST).  There isn't a bad arm in the rotation and their bullpen is deep. 
OSU's hitting is solid but aside from perhaps Pat Porter (.314, 6 HR, 32 rbis) and speedster Troy Montgomery (.307, 39 runs, 26 steals), the hitting may not be as flashy as Illinois' up and down the lineup. 
The Buckeyes hold the series advantage by a slim margin at 101-96-2.  Illinois took the last game these two met in 2014, a Big Ten Tournament matchup in which the good guys sent the Buckeyes packing. 
Quick take:  This will be Illinois' toughest series to date.  Hit them hard and hit them early.
Random Ramblings
Current bragging points for the Illinois baseball team: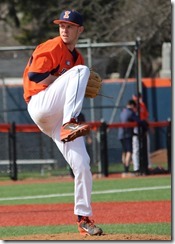 18-game winning streak
13-1, best conference start since 1911
37-6-1, best start in school history
37-6-1, highest win % in NCAA
Ranked #6 in nation, highest ever
2.31 ERA- fifth in nation
I want to thank The Champaign Room for all of their Illinois baseball coverage lately (and I'm not just saying that because their using my photos either).  I do appreciate them spreading the news about the best show in town. 
They're not the only ones recognizing the Illini, of course.  Noted pollsters D1Baseball have featured Kevin Duchene a couple times already in their Field of 64 Projections features.  Yes, these are projections but it's well worth the read.
Finally, if you want a good summary of this weekend in the Big Ten, Chris Webb is your go-to guy.  He previews the teams and games for you at B1GBaseball.com.
Good luck, Illini!!  
Related posts