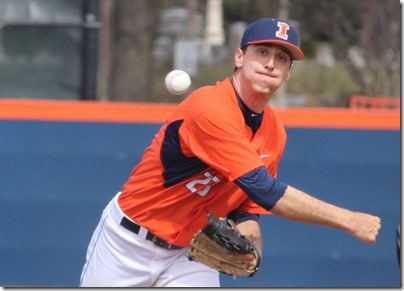 Starter John Kravetz is now 4-0 for the Illini
The Illinois baseball team can add one one more Big Ten sweep to their 2015 accomplishments.  On Sunday, they won 6-3 against the Penn State Nittany Lions (13-25, 2-12 Big Ten) giving them their fourth conference sweep of the season. 
The win today puts #8 Illinois at 36-6-1 and 13-1 in the Big Ten, a full game ahead of Iowa in the conference standings. 
What was said
Coach Hartleb has been downright chipper in his post-game interviews lately:
It's been a fun run.  Our guys have been doing such a great job of playing together as a team. It's not one guy who has been carrying us. It is a group of guys who are getting their jobs done day after day. Nobody is being selfish and they get along so well. It has been a good group to be around.
Just how historical of a season is the Illini baseball team having?  The Illini have won 12 conference games in a row and have started the Big Ten season with a 13-1 record.  The only other time that has happened was in 1911 under Coach George Huff.  Yes, the the man that Huff Gym was named after.   
| | | |
| --- | --- | --- |
| Game #43 / April 26, 2015 |   |   |
| | vs | |
| 6 |   | 3 |
John Kravetz improved his record to 4-0 after spreading out nine hits through six innings.  He allowed three runs and two earned.  Interestingly, Kravetz neither walked nor struck out a Penn State batter today. 
The bulk of the offense today came in the second inning when Illinois batted around in the order and rallied for four runs.  Three singles by Casey Fletcher, David Kerian and Will Krug brought home a run.  One Ryne Roper walk later, Ryan Nagle drove home two with a base hit to center.  Reid Roper helped the cause with a rbi hit scoring his little brother. 
Fletcher scored again on a sac fly in the seventh inning.  In the ninth, Jason Goldstein added an insurance run with a solo homerun, his sixth homer of the year. 
All three relievers got the job done today.  J.D. Nielsen and Cody Sedlock combined for two scoreless innings after Kravetz left.  Nick Blackburn, an increasingly key component to the Illinois bullpen, earned his second save on a perfect ninth inning. 
Random Ramblings
Today's date will go down as good day for Illini Athletics. Not only did Illinois Baseball complete its fourth sweep of 2015 and increase its winning streak to 17 games but Illinois Men's Golf won the Big Ten Championship AND Illinois Men's Tennis won the Big Ten Tournament.  Well done everyone! 
Just yesterday, I mentioned minor league opponents and former Illini Thomas Lindauer and Ronnie Muck (seen above in their Illini days).  I pondered if they would be facing each other soon.  Well, they did, according to Steve Batterson of the Quad City Times….
#qctimes Ronnie Muck with a 1-2-3 fifth that ended when he struck out former Illinois teammate Thomas Lindauer. Burlington 6, Quad-Cities 5

— Steve Batterson (@sbatt79) April 26, 2015
…get him next time, Tom. 
Next up
On Tuesday, the Illini will try for 18 in a row (and an undefeated April!) against Southern Illinois University.  They will be playing in Carbondale.  Game time is 6pm.
Way to go, Illini!
Related posts