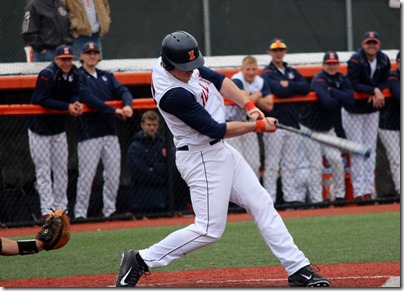 Pat McInerney drives in a run on Tuesday against Chicago State
Illinois Baseball's preview is up now for this weekend's series against Southern Illinois. 
It can't be emphasized enough.  Our pitching rotation is so strong that we can't find room for a pitcher of Rob McDonnell's caliber.  McDonnell did a fine job pitching six shutout innings against Chicago State to lower his ERA to 1.46.  On the bump this weekend, it will be Kevin Duchene (2-0, 0.64) on Friday, Drasen Johnson (1-1, 1.67)  on Saturday and John Kravetz (1-0, 1-0, 1.98) finishing up on Sunday. 
Here are a couple things to look for this weekend…
Kravetz moving up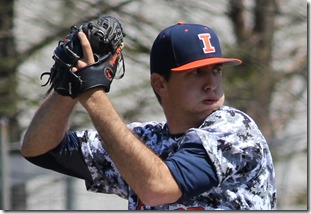 John Kravetz has 20 career college wins which ties him with five other Illini pitchers for eighth place on the all-time list. A victory would put him alone at #7.  Here is the fine company that Mr. Kravetz currently keeps…
Kevin Johnson (2010-13) 20-17
Jason Wollard (1993-96) 20-8
Keith Toriani (1990-93) 20-12
Rich Capparelli (1986-89) 20-13
George MIlls (1930-32) 20-7
Leading the Illini in all-time wins are Mark Dressen and current pitching coach Drew Dickinson who both have 30 wins. 
Reversing the SIU/Illini record? 
I just noticed that SIU actually holds the series record against Illinois by a very slim margin.  Historically, they have a 33-31 won-loss record against the Illini now.  Wouldn't be keen if the Illini swept the Salukis and reversed that trend? 
Offensive support for Drasen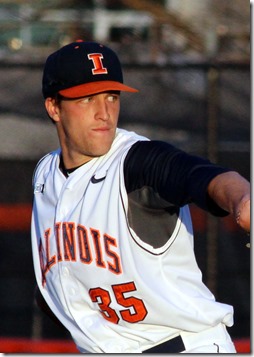 Reading the Fighting Illini weekend preview, I see that the PR team is not holding back when decrying the lack of offensive support that Drasen Johnson has gotten this year.  Each weekend, it's gotten a little more pointed. 
Just like last year when he received 2.4 runs/game his quest for wins is pretty elusive  Aside from his second start when the Illini scored 10 runs on his behalf, the support has been eerily similar.  Johnson has allowed just seven runs in four starts and just one win to show for it. 
I'm keeping a positive outlook though.  I predict a show of support for Drasen this weekend.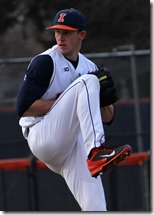 Tyler Jay continues on
Will Tyler Jay will get a save… or maybe a win?  So far, he's 3-0 with four saves on the season leading the team in both.  It almost seems inevitable. 
***
FYI for those driving to the game, the grass parking lot will be closed for the weekend.  According to the DIA:
Fans attending games at Illinois Field should park in either the Northeast State Farm Center quadrant or the parking lot at the Bielfeldt Athletic Administration Building (weekend only) with entrance off Fourth Street. Parking in the Ubben lot is unavailable until after 5 p.m.

See you at the ballpark!!
Related posts