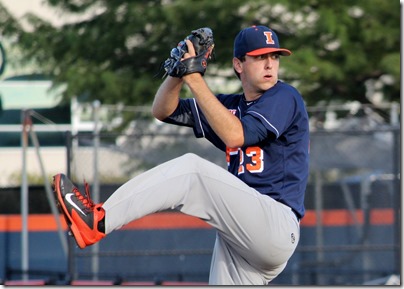 John Kravetz: getting the Illini back on track
After splitting the first two games against Ball State, Illinois (9-2-1) lost their second straight game against Kent State.  However, it was back to their winning ways as the Fighting Illini finished up the Chanticleer Classic in Myrtle Beach with two wins against West Virginia and host Coastal Carolina.
Despite the two losses, pitching was still the name of Illinois' game.  In the five games over the weekend, Illinois pitchers only gave up eight runs.  Only six of those runs were earned.  It's worth mentioning that four of the five games over the weekend were one-run games.
| | | |
| --- | --- | --- |
| Game #10 / March 1 , 2015 | | |
| | vs | |
| 4 | | 3 |
Seven Illini starters got a hit in the 4-3 loss including Mark Skonieczny who made his first college start.  Skony even drove in a run for the cause. 
Starting pitcher Rob McDonnell certainly didn't pitch badly (7 IP, 5 H, 3 ER, 5 K).  It's almost a shame that McDonnell, a 2015 Big Ten pitcher of the Week who currently has a 1.93 ERA also has a 0-1 record in three starts. 
| | | |
| --- | --- | --- |
| Game #11 / March 1, 2015 | | |
| | vs | |
| 2 | | 1 |
The Illini didn't have to wait long to get back on track after back-to-back losses.  They won another one-run game thanks to some good pitching by John Kravetz.  Kravetz threw 7 innings of shutout ball and struck out nine Mountaineers.  He didn't get the win though.  Give that W to Andrew Mamlic who pitched the eighth.  Reid Roper grabbed the save, his first of the year.  
Illinois got back on the late inning heroics bandwagon again, too.  They scored their winning run in the top of the ninth inning thanks to Ryan Nagle's rbi groundout that scored Adam Walton. 
| | | |
| --- | --- | --- |
| Game #12 / March 2, 2015 | | |
| | vs | |
| 7 | | 1 |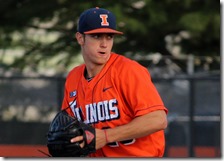 Bolstered by their success on Sunday, Illinois went out on Monday and had themselves an honest-to-goodness win against host Coastal Carolina.  Their was offense as the Illini scored seven runs, the highest total all weekend.  Every Illini starter collected a hit and as a team they smacked 12 hits.  Reid Roper got three himself and Matt James hit his second homer of the year. 
There was good pitching too, behind starter Cody Sedlock (pictured) who pitched four innings of no-hit ball, striking out four Chants.  Nick Blackburn and J.D. Nielsen kept CCU at bay for two innings until Tyler Jay came in for a three-inning save.  Jay, by the way, didn't allow a hit or a walk in his Monday stint.
Random Ramblings
The Illini's record now sits at 9-2-1 and are fighting it out with two other teams for first place.  Maryland is off to a good start at 7-2 and surprising Iowa has won their last six and is now 7-1.  For those wondering, projected powerhouse Nebraska is 6-4. 
***
If you would have asked me who would be the first two pitchers with two wins on our squad in 2015, I wouldn't have guessed Tyler Jay and Cody Sedlock.  That's probably a good thing.  Once our top four starters start getting some support from the offense and perhaps the bullpen, the sky is the limit. 
***
Next up:  Illinois plays a three-game series against Oklahoma State in Stillwater next weekend.  Gametime for the first game on Friday is 4pm. 
Related posts