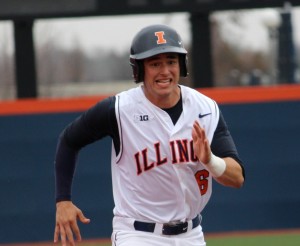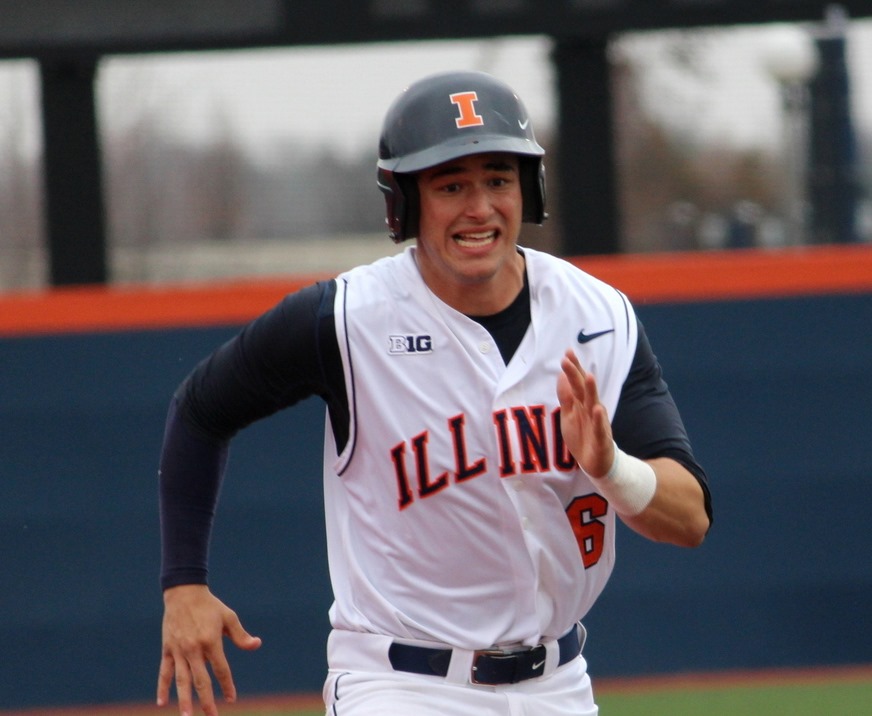 Adam Walton leads the team in steals and is tied for the team lead in runs scored
The Illinois baseball team have had great ride up until now.  They are 18-5-1 and are ranked as high as #17 in the polls.  Throw that all out the window now because the Big Ten season starts Saturday.  Conference game are a whole new ball of wax.  Tensions are higher, wins are more meaningful and the game of baseball in the Big Ten is taken up a notch of two.
This Saturday, the Illini will begin their conference season against the Michigan State Spartans in East Lansing.  According to the Fighting Illini weekend preview, the pitching probables are Kevin Duchene (3-1, 0.67 ERA) on Saturday, Drasen Johnson (3-1, 1.85) and John Kravetz (1-0, 2.82) on Monday.   Kravetz, with 20 wins, will once again attempt to break free of the six-way tie for eighth place in career wins for an Illini.
McLane Baseball Stadium at Kobs Field

East Lansing, Michigan

Sat. March 28

12:00 pm CT

Sun. March 29

12:00 pm CT

Mon. March 30

12:00 am CT

vs

W-L: 11-11 Big Ten 1-2
The Spartans of Michigan State have played pretty even keel with their opponents so far in 2015.  They are 11-11 while slightly outscoring their opponents 93-89.  They've outhit them .255 to .241 while their ERA lags a bit 3.79 to 3.59.  All told, they've played tough though their starting three have hard luck with a combined record of 2-9.
This will be the Spartans' second Big Ten series this season.  They took on Ohio State and won their Friday's match then dropped the last two.  They also defeated Northwestern in an early season non-conference game 3-2.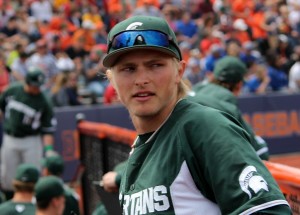 Look for the return this season of Spartan Cam Gibson (left), son of former MLB star Kirk Gibson.  Gibson is leading Michigan State in runs scored (17) and steals (10).
Random Ramblings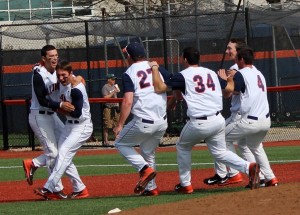 May 4, 2014: Walk-off hit by Casey Fletcher leads to celebrations
In case you forgot what happened the last time the Illini played the Michigan State Spartans, this should spark your memory.  Casey Fletcher topped off his five-homer week with his second walk-off hit in two games.  Illinois defeated MSU 10-9 in ten innings and swept the Spartans.  It's one of those games that stick in your mind.
Whaddya, think, Casey?  Got walk-off?
I am glad to see Nick Blackburn's photo featured on this weekend preview.  With all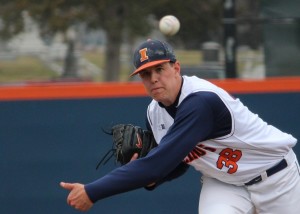 press that Tyler Jay has deservedly gotten, both he and J.D. Nielsen (right) have done a fine job in past few weeks.  Blackburn's role has been as a setup man and he's really gotten it done.  He's only allowed three runs and one walk all season.  Coach Hartleb has gone to Nielsen as a short reliever to get the Illini out of some nasty jams.  So far, J.D. has allowed one run in 7 2/3 innings and has been particularly effective.
Don't forget, the schedule is a bit wacky this weekend.  All games have been moved back one day.
Go Illini!! 
Related posts