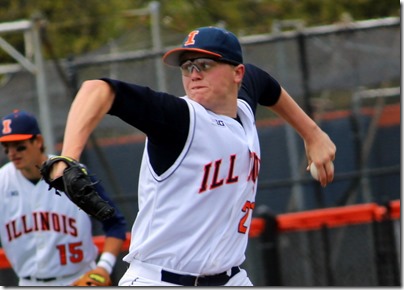 Kevin Duchene is ready to get into action at Myrtle Beach
This weekend, it will be a five-game set for #25 Illini (6-0-1) down in South Carolina.  Coastal Carolina University Baseball will be hosting the four-day event known as the Chanticleer Classic.  Fire up Gametracker! It's time to follow some Illini baseball! 
The Fighting Illini weekend preview is up and it looks like the imposed suspension of starting pitcher Kevin Duchene has been lifted.  With a five-game series, that's good news.  Pitching probables for the weekend are Duchene (0-0, 0.00) for Friday, Drasen Johnson (1-0, 1.32) for Saturday while Rob McDonnell (0-0, 0.77) and John Kravetz (1-0, 2.70) will be on the mound for Sunday.  As for Monday, no pitcher has been announced but my guess is that Coach Hartleb may tap Tyler Jay for the job.
TicketReturn.com Field at Pelicans Ballpark

Myrtle Beach, South Carolina

Fri. February 27

1:00 pm CT

Sat. February 28

10:00 am CT   

vs

2015 W-L: 4-2

Sun. March 1

9:00 am CT

vs

2015 W-L:  2-4

Sun. March 1

12:30 pm CT

vs

2015 W-L:  3-3
Springs Brooks Stadium

Conway, South Carolina

Mon. March 2

11:00 am CT

vs

2015 W-L: 5-2
Of the four teams that Illinois will be facing this weekend, Coastal Carolina will most likely be the toughest opponent.  Not only are they off to a 5-2 start this year but if my memory serves, they have a baseball tradition that behooves them.  They have been known to crack the national polls on occasion.
The Mid American Conference's Ball State has jumped out to 4-2 start in 2015.  They've been helped by four solid hitters most notably Elbert Devarie at a .464 clip.  They also have dependable bullpen to help them out of a jam
Kent State's offense is a bit down but they've been helped by a decent outings by their pitching staff.  They've scored 26 runs in six games but on the other hand, have only given up 29.
Random Ramblings
By the way, if you're wondering what a "Chanticleer" is, this link might help.  It's also not pronounced like you might think. 
As noted, the Illini baseball team is now nationally ranked.  D1 Baseball ranks them #25 while NCBWA places them at #27.  I'm always nervous about early season rankings and I'm sure the Illini coaches try to persuade the players not to pay too much attention to them.  That said, Illinois now places #2 nationally in the Warren Nolan Power Rankings behind Ohio University.  You can't help but feel excited for the team. 
The wins are coming because of good pitching and good offense.  A key stat:  Illinois is outscoring their opponents 50-19.  Nine of those runs have come in the 9th inning too. 
Go Illini!! 
Related posts