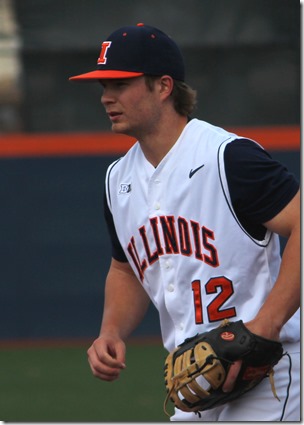 David Kerian is batting an even .500 after last weekend
It's been a exciting week after Illinois' surprise 4-0 opening weekend in Beaumont, Texas.  Surprising that is, to everyone outside of the Illini Nation.  It wasn't so much that the good guys swept opponents New Mexico State and Lamar but in the way that they did it with dominant performances from all four of their starting pitchers. 
Kevin Duchene was not one of those pitchers.  His suspension remains a mystery.  However, Tyler Jay filled in quite nicely, pitching five scoreless innings against Lamar and even garnered some attention as Fangraphs showed off his change-up slo-mo style.
This weekend, the Illini travel to the 'other' South, Fort Meyers, Florida to be exact.  They'll be playing one game against the Fordham Rams (1-2) sandwiched between two against host Florida Gulf State Eagles (1-3).  Probable pitchers have been announced on the Fighting Illini's weekend preview.  Drasen Johnson (0-0, 0.00), Big Ten Pitcher of the Week Rob McDonnell (0-0, 0.00) and John Kravetz (1-0, 1.17) are slated to take the hill.   
Swanson Stadium

 

Fort Meyers, Florida

Fri. February 20

5:30 pm CT

Sun. February 22

1:30 am CT   

vs

2015 W-L: 1-3

Sat. February 21

12:00 pm CT

vs

2015 W-L:  1-2
This will be the first meeting between the Fordham Rams and the Illini.  The Rams are off to a 1-2 start no thanks to some rough pitching in their first weekend.  They gave up 22 runs in 25 innings. 
According to the local press, Florida Gulf State is experiencing some injury problems with at least two key players riding the bench.  Both centerfielder Gage Morey and firstbaseman Nick Rivera are projected to be out.  Coach Dave Tollett isn't painting a pretty picture for the Eagles either.  In his words, "It will get worse before it gets better.". 
Random Ramblings
I wasn't going to say anything in last weekend's wrap-up but since the Fighting Illini weekend preview did, I will.  The preview notes that last year, Drasen Johnson got 2.4 runs support per game in 2014.  This year it continues.  Last weekend, Drasen pitched 6 2/3 innings of scoreless ball but received nary a run of support. 
Come on, offense, get some runs for Drasen!
If you haven't seen it already, check out Coach Dan Hartleb interviewed by Illini SID Matt Wille
Coach Hartleb by the way, coached his 500th game as an Illini last weekend!  Congrats, Coach! 
It won't be long before Illinois baseball comes to Illinois Field.  It's less than three weeks away.  The Illini take on Chicago State on March 10th.  Let's hope it gets warm soon!
Enjoy the warm weather, boys and win a few more. 
Go Illini!! 
Related posts