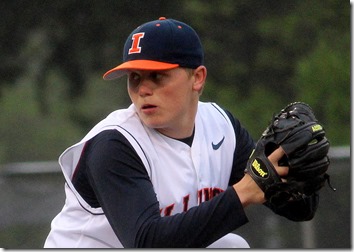 Kevin Duchene is back with a vengeance
It's bad news, good news and bad news time.  The bad news is that Illinois scored just two runs in as many games against Ball State.  The good news is that they won one of those games.  The bad news is that yes, they lost the other, their first loss of the year. 
Their record now stands at 7-1-1 going into Day 3 of the Chanticleer Classic in Myrtle Beach, South Carolina. 
Both games were pitching duels with a 1-0 shutout win for the Illini on Friday and a 2-1 loss on Saturday.  Illini starters Kevin Duchene and Drasen Johnson combined for 14 shutout innings in both games. 
Welcome back, Kevin Duchene!  In his first start of 2015, Duchene pitched brilliantly, striking out nine batters in seven scoreless innings.  He pitched efficiently, allowing just five hits and no walks.  Nick Blackburn and Tyler Jay finished out the game by pitching a perfect inning each.
The Illini offense only needed to score one run and wouldn't you know it, it was Casey Fletcher who came through with the game winner again. His base hit drove home Ryan Nagle in the fourth inning. 
The Illini ALMOST got away with another 1-0 win on Saturday, too.  Almost. 
Drasen Johnson was on the mound and it seems that he had gotten his quota of run support last weekend.  This weekend, the Illini had scored one run after eight innings.  It was looking like that might be enough as Johnson had Ball State on the ropes.  He pitched seven shutout innings before the bullpen was called in.  Unfortunately, a committee of four relievers had their issues with the Cardinals and the winning run was scored on an unearned passed ball. 
The Illini were set down in order in the top of the ninth for their first loss of the season. 
Matt James scored the lone Illini run on a solo homer in the third inning. It was his first career homerun. 
Random Ramblings
Ok, putting the loss aside for now, I'm pretty amazed at how well our pitching rotation has done so far this season.  I know it's early in the season but right now they have only given up seven runs and nine walks in 58 innings assuming my math is correct.  That comes out to a 1.08 ERA and 1.39 BB/9 IP.
I'm not trying to jinx the team and really, it's unrealistic to think this kind of thing can continue but wow, that's pretty amazing! 
Next up:  Illinois continues on in the Chanticleer Classic tomorrow playing Kent State at 9am. 
Related posts