Tyler Jay: High expectations in 2015 for the stopper
It's finally opening weekend!! 
With brand new uniforms and two new coaches, the Illini have the same old desire to win.  Don't expect a lot of changes on this team.  Other than acquiring assistant coach Spencer Allen and volunteer assistant coach Kyle Hudson, there have been precious little personnel movement since 2014.  That can only be a positive thing coming from a team that went 32-21 and even better, 17-7 in the Big Ten. 
This Friday, the University of Illinois baseball team goes down Texas way to participate in the Lamar University's Cardinal Classic.  There they will take on the New Mexico Aggies and host Lamar Cardinals for two games each. 
Vincent-Beck Stadium

Beaumont, Texas

Fri. February 13

2:00 pm CT

Sat. February 14

11:00 am CT   

vs

2014 record: 

23-31 (11-13 WAC)

Sat. February 14

2:00 pm CT

Sun. February 15

11:00 am CT

vs

2014 record: 

31-25 (16-14 Southland)
It won't be the first time the Illini has faced either team.  In fact, Illinois narrowly defeated the Aggies 3-2 just two years ago.  The Aggies will be getting used to a new coach.  Brian Green is taking over after their winningest coach in history, Rocky Ward left. 
As for Lamar's head coach, he has his own story.  Jim Gilliam has incentive to win as he is one away from 1,300 career wins. If he doesn't get that win against New Mexico State, Illinois will be up next.  
Fortunately, the Illini have history on their side.  They have swept Lamar 3-0 lifetime and have gone 2-1 against the Aggies.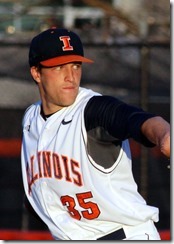 The Fighting Illini weekend preview is out and so are the probable pitching assignments.  Look for Drasen Johnson (seen left, 5-7, 2.91 ERA in 2014) to be the opening day starter.  Rob McDonnell (4-0, 3.67) is tapped to to go on Saturday morning against the Aggies.  John Kravetz (6-0, 3.00) is taking on Lamar Cardinals on Saturday afternoon.  There's a puzzling TBA listed for the last game against Lamar.  Logically, I would think that's where Kevin Duchene's (4-1, 1.80) name would go.  According to the News-Gazette this morning, Duchene is "fully healthy" but perhaps he needs one more week more.  Or perhaps Coach Hartleb is just toying with the idea of using one of the second tier starters to give them some experience. 
Random Ramblings: 
Lots of news in the past week.  First, the preseason poll has come out and Illinois is picked to place third in the conference.  Keep in mind this is a poll of the conference coaches. 
If you're wondering, newcomer Maryland has the respect of the coaches of the Big Ten and placed first.  Nebraska comes in #2. 
The top six teams in the preseason poll:
1. Maryland
2. Nebraska
3. ILLINOIS
4. Indiana
5. Michigan
6. Ohio State
Last year's Big Ten champion Indiana, who lost a lot of players to graduation and the draft, slips to #4.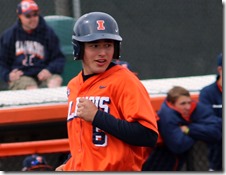 The Tyler Jay parade of honors is getting pretty crazy.  He's now been been added to NCWBA's Stopper of the Year Watch.  That makes a total of eight awards or honors that Jay has received over the off-season.  So much so, that the Fighting Illini website is keeping a running list now.
Don't let it get to your head, Tyler.  Just throw hard. 
Speaking of preseason honors, I couldn't help but notice that Adam Walton (above) and Kevin Duchene were both picked as 2015 Big Ten Players to Watch (along with Jay).  That's the second selection for Duchene, by the way.
Finally, a fun stat from fightingillini.com…
"Offense: UI will bring back 100 percent of its hits (487), home runs (21), RBI (233) and total bases (652); 98.8 percent of its runs (250 of 253); and 98.5 percent of its stolen bases (65 of 66)."
I've talked and talked about Illinois' pitching this coming year but this really drives home the fact that their offense doesn't lose ANYTHING from last year.  If anything, it gives them all a year of experience. 
Let's see if we can prove the preseason poll wrong and do it one or two better. 
Go Illini!! 
Related posts