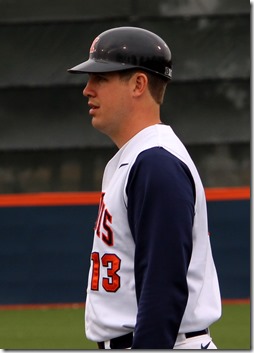 Luke Stewart: from the Illini to the Huskies
Now that the Hot Stove Banquet is over and done with, we can start focusing on the upcoming season which is two and half weeks away.  But first, a few things to wrap up.  
First of all, on behalf of Illini baseball fans, I'd like to wish last year's volunteer assistant coach Luke Stewart a fond farewell and congratulations.  Luke will be leaving the Fighting Illini.  He has been hired by the Northern Illinois University baseball in a full-time assistant coach position.  Luke served faithfully in the first base coach role and did a fine job working with the team's position players.
Good luck in your new position, Luke! 
***
The FightingIllini.com website has wrap up of Saturday's banquet as well as a photo gallery of their own.  Don't miss the video of the guys singing the school song! 
***
Finally, the Illini baseball information department has been busy lately.  They have just released the Fighting Illini Baseball Quick Facts sheet.  Everything you want to know about the 2015 Fighting Illini baseball team in one document.  It includes the team roster, 2015 schedule, 2014 stats and game results as well as other pertinent information.  You can view it at the Illini baseball website. 
Baseball season is less than three weeks away!
Related posts