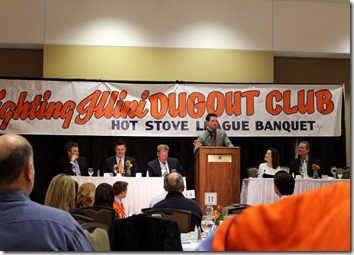 For those of you planning to go to the 2015 Illinois Baseball Hot Stove Banquet, I hope you already bought your tickets.  Coach Dan Hartleb announced today that the event, with Hal Morris as keynote speaker has already been sold out.  That's pretty amazing and overall a positive sign.  I'm glad to see interest in Illini baseball is so high! 
The Hot Stove Banquet, traditionally seen as the kickoff of the Illini baseball season, will take place on January 24th at the iHotel in Champaign.  Appropriately, the baseball team will begin taking practice on the day before on January 23rd. 
For those attending, I'm looking forward to seeing you all!
Related posts