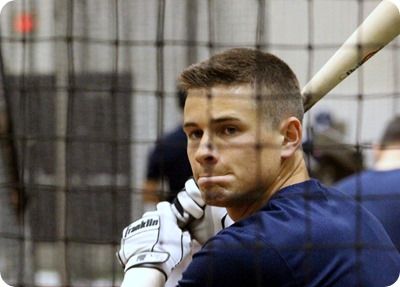 Will Krug takes his cuts in the batting cage on Friday
What best way to gear up for the 2015 Illinois Baseball Hot Stove Banquet than to watch the baseball team practice?  I stopped by the Irwin Indoor Facility today and took in some of the action.  Though they have been out on the field together, this was their first official practice of 2015. 
Yes, new volunteer assistant coach Kyle Hudson (above, left) was there, ready to impart his knowledge to the young ones.  Today though, his job was to lob easy ones to those hitters taking batting practice. 
He wasn't the only former Illini coming straight from pro ball helping out.  Willie Argo (above, right), former Illini and now minor league centerfielder, was in town to assist with today's practice.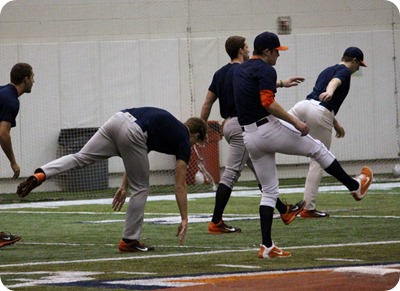 Limbering up
There seemed to be a lot of excitement about the Hot Stove Banquet which takes place tomorrow at 5pm at the iHotel in Champaign.  No doubt, most of  the players' parents will be in town for the event.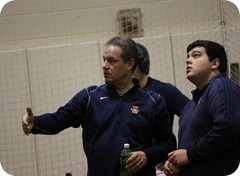 I talked a little with Coach Hartleb (left) about the team's recent appearances in national polls.  Most recently, Perfect Game has the Illinois baseball team ranked #38.  Hartleb downplayed it, of course.  He did jokingly mention something about maybe attending the banquet tomorrow.  Glad to hear it.  It wouldn't be the same without him.
There are a few more photos from today's practice at the Illinois Baseball Report photo gallery.
Related posts