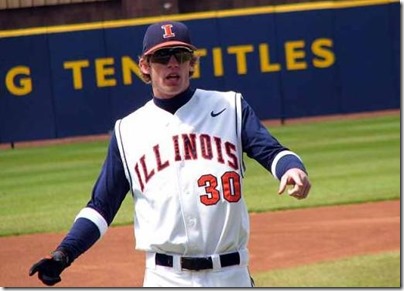 A look back:  Kyle Hudson stretches at the 2007 Big Ten Baseball Tournament
Again?  Another former Illini is coming back to the Big Ten.  Two days ago, the Indiana Hoosiers hired former Illini shortstop Shawn Roof to take on the role as coach.  And now, the Illinois baseball program has just announced that former centerfielder Kyle Hudson will be returning to Illinois Field as a volunteer assistant coach! 
Like Roof, Kyle Hudson played on the 2005 Big Ten championship team.  He played on the Illinois baseball team from 2005-2008.  He was fast, a great glove man in centerfield and could rack up the hits.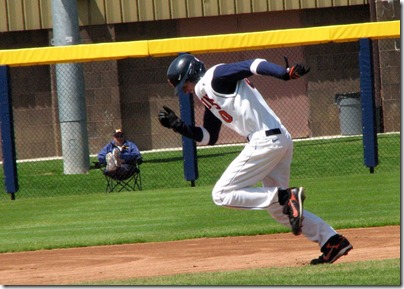 A typical move for Kyle: stealing second
What they said:
Coach Hartleb: 
"I am extremely excited to have Kyle back with our program.  He is one of the all-time great Illinois athletes. He is one of only a handful of athletes in the world that has been a starter in two sports at the Division I level and has played at the highest level of baseball during his time in the MLB with the Baltimore Orioles. I have as much respect for Kyle as any player I have ever coached because of his work ethic, leadership, desire and maturity."
Kyle Hudson
"I would like to thank coach Hartleb for this great opportunity.  He has been one of my biggest supporters since the time I stepped on campus in 2005. I could not have asked for a better mentor throughout my college and professional baseball career. I am excited for the opportunity to coach at the place that gave me so much in the three years I spent here as a student-athlete. The University of Illinois has such tradition, not only in athletics, but also in academics. I look forward to working alongside coach Allen and coach Dickinson, as well as helping with the continued success of our student-athletes. The Illinois Baseball program is one of the best in the country and I am blessed to have the opportunity to be a part of this great program once again."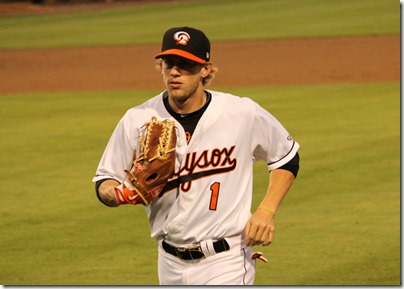 More recently:  Hudson playing for the AA Bowie Baysox in 2013
Hudson not only was a star baseball player at Illinois but he also played on the Illini football team as a receiver and punt returner.  He was a three-time letter winner in both sports and even played in the 2008 Rose Bowl.  Once he made the decision to stick with baseball though, the scouts paid attention.  He was drafted in 2008 by the Baltimore Oriole organization and spent 8 years in the minors which included a brief stint with the major league team in 2011. 
Kyle Hudson's Illini career at a glance
Ranks second among all Illini with a career .376 batting average
Holds Big Ten single season record for runs in conference play with 40
Tied single season record for steals for an Illini (with Roof) with 40 (since broken by Willie Argo)
Ranks third among Illini for career steals with 66
Batted .398 in 2008 with a .498 OBP
Kyle will be a welcome addition to the Illini baseball team.  I remember him as a talented baseball player but also a leader.  He will have plenty to teach our already skilled crew. 
Welcome, Kyle!
Related posts