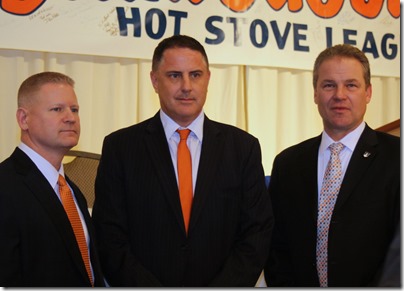 Fighting Illini Dugout Club president Jon Swenson, keynote speaker Hal Morris and Coach Dan Hartleb
It was a sold out crowd and there was a of fun to be had at Saturday's Illinois Baseball Hot Stove Banquet at Champaign's iHotel.  The Fighting Illini Dugout Club put on a spectacular production as everything fell into place and everyone attending seemed to have a grand time.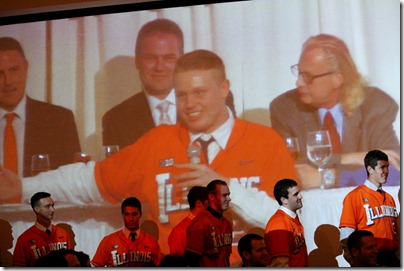 Illini players wait their turn to speak in front of pitcher Kevin Duchene who is on the big screen.
The Hot Stove Banquet is traditionally seen as the kickoff of the baseball season and appropriately, attendees got a chance to meet the Illini baseball players.  They were dressed up in fine clothes though they were wearing their jersey tops with their uni numbers.  As always, the boys were on their best behavior.  Like last year, reliever Anthony Milazzo wins the prize for goofiest standup when they all had their chance to address the crowd. 
Former MLB player Hal Morris addresses the crowd
Keynote speaker Hal Morris delivered a fine speech. He recounted his love of baseball from a young age and told the sold out audience about playing as a child and developing his skills in high school and the University of Michigan.  He recalled the day that he was called up to the big leagues with the New York Yankees.  Of course, he had plenty of stories to tell about his days with the Cincinnati Reds especially the 1990 World Series championship team.
Coach Hartleb noted earlier that Mr. Morris waived the honorarium that he was offered to speak to the banquet and only accepted travel costs.  A classy move on his part, in my opinion.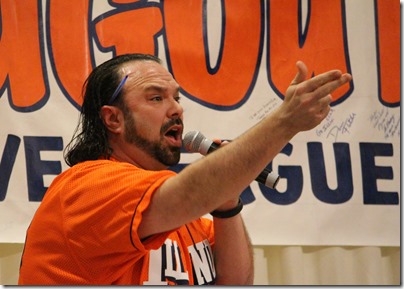 Mike Namoff acknowledges a bidder during the live auction
The live auction portion of the evening is one of most exciting parts of the night.  And nobody brings more excitement to the process than auctioneer, Mike Namoff of This is It Furniture fame. 
Namoff's humorous banter during the auction is quite entertaining and dare I say, probably profitable for the auction. Mike knows how to keep the pace going during the auction. 
Illini baseball head coach Dan Hartleb was as eloquent as I have heard him when it was his turn to speak to the crowd.  That didn't stop him from cracking a couple of jokes though.    Also, I was personally glad to see Illini baseball announcer Dave Loane serve as emcee this year.  His laid back, smooth voice and subtle humor as well as his knowledge of the sport was just perfect for the evening.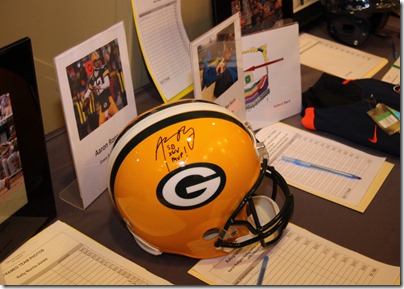 Green Bay Packer quarterback Aaron Rodgers' autographed helmet was one of many items available for silent bid
No word yet on a final figure on how much money was raised during the banquet.  However, my wife did an informal tally of the live auction figures alone and it came up to well over $20,000.  That, of course, does not include the many silent bid items that were for sale. 
In all, it was a fantastic time.  The Hot Stove Banquet is perfect for re-connecting with the Illinois Baseball community.  I met with players and their parents as well as good number of former players who came back for the event.  Thanks to Coach Hartleb, the Fighting Illini Dugout Club, all of the Illini baseball players not to mention keynote speaker Hal Morris.  A great time was had by all! 
More photos from last night's Hot Stove Banquet here. 
The Illinois Baseball team kicks off their season in less than three weeks on February 13 against New Mexico State in Beaumont, Texas. 
Related posts