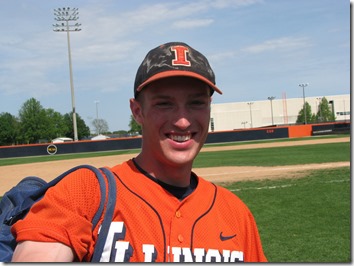 One of the most popular players in Illinois baseball recent history is coming back to the Big Ten.  Shawn Roof, who was a fan favorite during his years from 2004-2007, has accepted a job with the Indiana Hoosiers baseball team.
Shawn has told me that he will be working with the infielders, hitters and will take on the first base coach duties at Indiana.  He's very excited about the opportunity and looks forward to a Hoosier championship season.  I'm sure he's happy to be a little closer to his home of Paducah, Kentucky.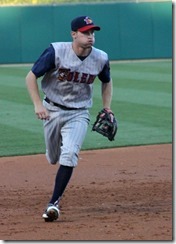 After his tenure at Illinois, Roof was drafted by the Detroit Tigers in 2007. He reached as high as Triple-A with the Toledo Mudhens in 2010.  As of late, he has been coaching in the Baltimore Oriole minor league system and even did a short coaching stint in Europe last Fall. 
Highlights of Shawn Roof's Illini career:  he broke the single season record for steals with 40 in 2007;  the same year he also broke the single season record for hit by pitches with 22;  Four of those HBP came in one game, also breaking a record; In 2007, he was named the Big Ten Outstanding Sportsman Award winner;  In 2006, he was named Third Team All-Big Ten. 
For my money, there was no one who played harder on the field and yet epitomized what it meant to be an Illini baseball player off the field.  Wherever he has played, from Illinois to the college summer league Fayetteville Swampdogs to all of his minor league stops, he has endeared himself to the local fans. 
Looking at the 2015 schedule, I see that Illinois plays Indiana at home this year on April 17th.  No doubt, it will be strange to see Mr. Roof in a crimson and cream uniform instead of the familiar Orange and Blue but it will be fantastic to see him nonetheless.  As far as that Hoosier championship season, our guys here may have a thing or two to say about that. 
Related posts