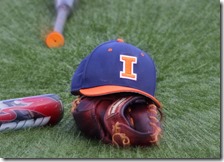 Big news!  The keynote speaker for the Illinois Baseball Hot Stove Banquet has been officially announced. 
The Illinois Baseball team and the Fighting Illini Dugout Club will have former MLB player Hal Morris as the main speaker.  Morris, who played most of his 13-year career with the Cincinnati Reds, had a lifetime .304 batting average and batted a career high .335 in 1994. 
There's more to Hal Morris than a good baseball player though.  After his playing time was up in 2000, Morris went back to school and earned an Masters in Business Administration from Stanford University.  He put his degree to good work in private investing before getting back into the business of baseball.  He is now Director of Professional Scouting for the Los Angeles Angels.
Hal Morris is a Big Ten product, by the way.  He played for the University of Michigan and was drafted in 1986.
The Hot Stove Banquet is scheduled for January 24th, 2015 at 5pm.  Dinner will be served at 6pm.  It will take place at the iHotel in Champaign, Illinois.  Individual tickets can be ordered for $50.  More pricing plans are available as well. 
Those interested in attending should fill out the registration form on the FightingIllini.com website. 
For those who haven't been to a Hot Stove Banquet yet, I highly recommend it.  It is traditionally seen as the kickoff off the Illinois Baseball season but there is plenty of time for retrospection as well. I went for the first time this past January and had a blast.  
Hope to see you there!
Related posts