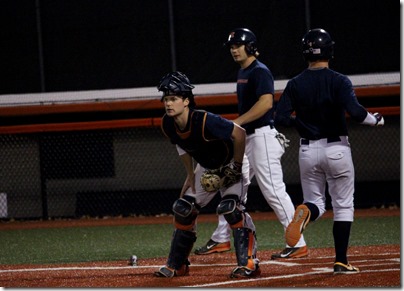 Catcher Kelly Norris-Jones awaits the cutoff throw
Baseball in November at Illinois Field.  There's a first for everything.  The Illini were at practice today getting warmed up for their trip to the Dominican Republic.  They'll be leaving for a week on November 22nd. 
For those interested, there is a drive to collect baseball gloves for youth in the Dominican Republic.  According to FightingIllini.com, baseball gloves can be dropped off at any This Is It furniture store location. 
Coach Dan Hartleb says:
"The kids in the Dominican Republic will greatly appreciate the generosity of the Champaign community.  Most of the kids in the Dominican live in shacks with dirt floors and don't have the means to purchase a glove. A glove will be like Christmas Day for them. Our hope is to hand out the gloves to kids at our games and take them to the orphanage we will visit for those kids to use as well."
Hartleb should know.  He spent some time down in the Dominican Republic last year and wrote about it extensively on the FightingIllini.com website.  Here is the recap from last year.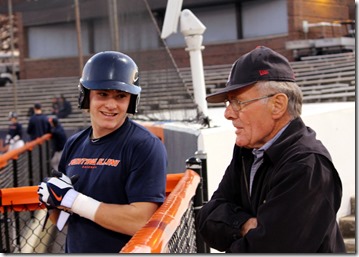 Chilly John Santas of the Dugout Club regales Ryan Haff with another Illini tale
This year, all the players get to go thanks in part to Coach Hartleb's hard work as well as financial support from the Illini Dugout Club.  The team has at least eight games scheduled with Dominican Summer League teams. 
Good luck in your travels, team and thanks for one last glimse of Illini Baseball before the year is out!
Related posts