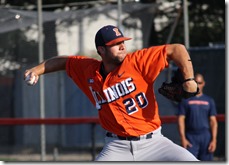 Coach Dan Hartleb and the Illini Baseball program announced the 2015 Illinois Baseball schedule on Wednesday.  With the new, expanded Big Ten conference we have a very interesting lineup of games for the upcoming year.
Here's a link to the 2015 schedule on FightingIllini.com
The season starts on February 15th at the Lamar University's Cardinal Classic where the Illini will be facing both Lamar and New Mexico State.  After three weeks of action down south, the Illini will head north on March 10th.  They will then host a nine-game home stand of non-conference teams which will include a three-game set with the Southern Illinois Salukis. 
The Big Ten opener will be on March 27th in East Lansing against the Spartans of Michigan State.  That begins an eight-game road streak including conference opponents Northwestern,  The Illini can get a little comfortable because nine of their next ten games are at home with conference series against Purdue and Indiana.
After two away series versus Penn State and Ohio State broken up by another midweek Southern Illini game down in Carbondale, the Illini get to finish up at home.  On May 8th, they'll take on new conference member Rutgers.  For the last weekend of the year, they'll finish with Darin Erstad's tough Nebraska Cornhuskers
The Big Ten Baseball Tournament scheduled for Target Field in Minneapolis, will be on May 20, 2015. 
In his announcement, Coach Hartleb is pushing the competitive angle:  . 
"We have a very competitive 2015 schedule that will help us contend for an NCAA berth with a strong RPI.  This is one of the stronger schedules we have had with 12 games against teams that were NCAA qualifiers from last season. There is a lot of variety, so we will see many different styles throughout the season. We will test our pitching staff early with an opening weekend with four games and our third weekend with five games. We will be able to develop our starting staff and give them innings against quality teams."
Worthy of note, the Illinois baseball team will be playing in eight exhibition games in their trip to the Dominican Republic next week.  No, they won't officially count in any capacity but as I see it, the live practice against other teams will help. 
Related posts