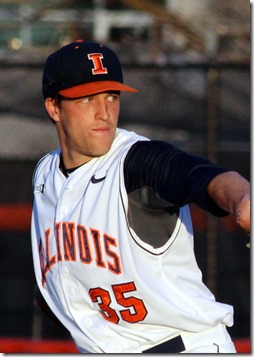 Drasen Johnson gets listed in the Records Book for leading the Big Ten in strikeouts in 2014
Admittedly, there isn't a lot that goes on news-wise with Big Ten baseball in between the Orange and Blue World Series in the Fall and the Hot Stove Banquet in January.  This year is a bit different with the team's November incredible trip to the Dominican Republic (more on that soon). 
However, one thing to break the monotony of the off-season for the fans is the conference's annual release of the Big Ten Records Book.  For hard core Big Ten sports geeks, it's a lot of fun, full of history and information to digest.  All Big Ten sports are represented including of course, Baseball. 
What does the Records Book include for Big Ten Baseball fans?  A lot.  That includes:
A wrap-up of the 2014 season
Standings for every year (beginning 1896)
Career, yearly, and game records for both conference and non-conference games
Big Ten Tournament results and Tournament records
Award and All-conference selections
Again, it's chock-full of fun info.  And yes, this guy is still there:

You can find the Big Ten Records Book online at the Big Ten website. 
Here is the link to the Baseball section.
Related posts