On Friday, Illinois gave it their best shot but eventually the Spartans' offense caught up to them.
The #3 seed Illinois (32-21) got an early lead against Michigan State (31-25) and had a 2-1 lead as late as top of the seventh inning.  But then things went sour and the Spartans tied in the seventh.  Illinois proceeded to give up five runs in the eighth and four more in the ninth.  That sealed a Spartan win and finished the Illini's bid in the Big Ten Tournament in Omaha possibly ending their 2014 season.
Starter John Kravetz pitched a great game against the rival Spartans spreading out six hits in 6 2/3 innings and allowing just 2 runs, one earned.  The Illini's first run came in the second inning when Ryan Nagle drove home Casey Fletcher who doubled earlier, on a sacrifice fly.  Illinois' second run occurred in the third when Jason Goldstein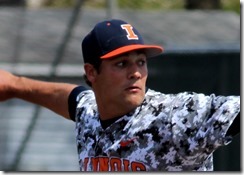 drove home Will Krug on a two-out double.
It has to be difficult for senior Ronnie Muck (left), who has been one of Illinois' most reliable relievers in the past two years to finish his college baseball career in the way he did.  Everyone knows his five-run on 1/3 innings performance is in no way indicative of his overall value to the ball club.  I'm sure many would like to see Illinois get a NCAA bid just so Muck can vindicate himself.
Next up
Speaking of which, Coach Dan Hartleb thinks that Illinois is one of best NCAA bubble team out there and he's doing his best to promote that:
"I'm really proud of this team.  I do believe we are a team that can go into a regional and compete and even win a regional. If you look at our résumé with our record against Top 100 and Top 25 RPI teams, we may be the best bubble team, so hopefully those are things the committee looks at. I think we are worthy of a bid, but I also know that committee has a tough job because there are other teams that our worthy."
Hartleb makes a good case but I'm sure there are ten or fifteen other coaches making similar arguments.  We will find on Monday if Illinois' season will continue on to the Regionals as an at-large selection.  The NCAA Selection Show will be at 11am Monday on ESPNU.
By the way, keep an eye on Dewi Krug's photo gallery.  She's been posting pictures all year and as Will Krug's mom, she was in Omaha all week.  Soon, I'm sure she'll be posting photos from this week's games in Omaha.
Good luck Illini!
Related posts