A little pressure has been lifted off the Illini for the time being, at least.
Illinois is now guaranteed a #2 or #3 seed in the Big Ten Tournament.  Illinois Baseball puts it simply on Twitter…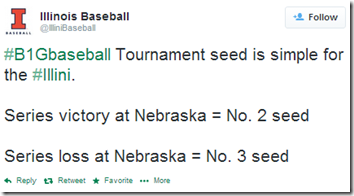 As far as the top three, it really is that simple.  Indiana, Illinois and Nebraska have distanced themselves from the rest of the conference.  Fourth place Minnesota is a full four games behind the Illini and the Cornhuskers.  As for Indiana, they have even distanced themselves from the two tied for second.  Currently, they are three games up in the standings.
Going into the last regular season weekend, let's take a look at the standings of the Big Ten:
Big Ten
Overall
Team
Record
Pct.
Record
Pct.

1. Indiana

19-2

.905

35-12

.745

2. Nebraska

16-5

.762

35-17

.673

  

Illinois

16-5

.762

30-17

.638

4. Minnesota

12-9

.571

26-20

.565

5. Michigan

13-11

.542

26-26-1

.500

6. Ohio State

9-12

.429

28-24

.538

7. Iowa

8-13

.381

27-20

.574

  

Michigan State

8-13

.381

26-23

.531

9. Penn State

5-15

.250

17-29

.370

10. Northwestern

5-15

.250

17-32

.347

11. Purdue

5-16

.238

12-35

.255
With Illinois' sweep of Iowa last weekend, Coach Hartleb has already equaled his season-high in Big Ten victories with 16.  That with three more games left in the regular season, too.  Illinois' mark of 30-17 also means that Hartleb has six 30-win seasons under his belt, too.  Quite a year of accomplishment for the manager who moved into 4th place among Illini baseball coaches in wins.
Worth noting, the Fighting Illini swept their Big Ten opponents on the road for the first time in history.  They went 9-0 against opponents Penn State, Northwestern and this previous weekend, Iowa.
Next Up
The Illini will have a long trip coming up.  They'll be playing Nebraska this weekend.  Note the series starts on Thursday this time.  Win or lose, they will be in the Big Tournament which is conveniently in Omaha and starts on May 21.
Game time for Thursday's game is 6:35pm.
Go Illini!
Related posts