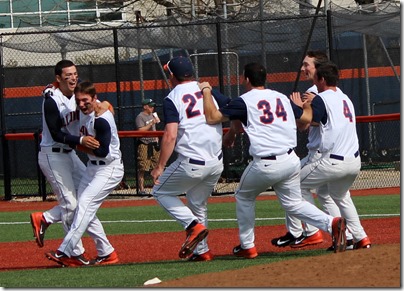 Sunday was just another day in paradise at Illinois Field.
For third game in a row, Illinois came back from behind to defeat Michigan State and for the second game in a row, Casey Fletcher hit walk off hit to win the game for the Illini.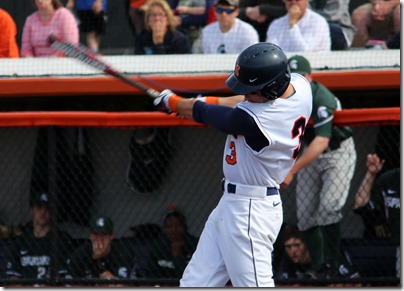 Fletcher's hit in the bottom of the ninth scores two to win it
Illinois was down by two runs going into the bottom of the ninth and trailed as much as five runs in the top of the seventh.  The Illini offense kept at it with big games from David Kerian (2 for 5, five rbis, triple), Reid Roper (2 for 5, 2 rbis, one runs scored) and oh yes, Casey Fletcher who is having quite a week.  To add to his accomplishments of three homers on Tuesday, two homers AND a game winning hit on Saturday, Fletcher came through with a two-out single to left driving home two runs, which gave the Illinois the sweep over Michigan State.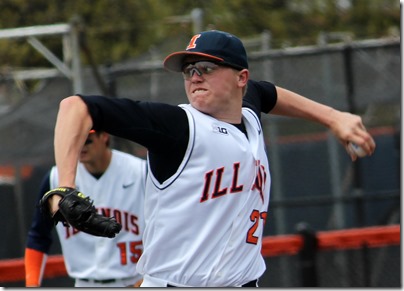 The return of Kevin Duchene to the mound
Perhaps lost in the excitement is that Kevin Duchene made his debut since becoming injured earlier this this year.  He gave up four hits in three innings and allowed one run before Ryan Castellanos took over.  I think that the plan was to give Kevin a short outing all along and there were no signs that he isn't ready for the long haul in future weekends.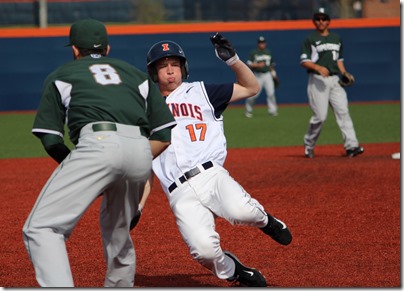 Unfortunately, the Spartans weren't ready to lay over and scored three runs in the sixth inning and four more in the seventh giving them an 8-3 edge.  A little kudos goes to a couple players who Coach Hartleb was trying out in the DH spot.  Kelly Norris-Jones earlier hit a double and was hit by a pitch and eventually scored.  In the seventh, Matthew James (above, sliding into third) was called on to pinch hit for Norris-Jones and responded with a base hit to keep the rally going.  That gave David Kerian a chance to drive home three runs with a bases clearing double.  A Reid Roper base hit which drove home Kerian brought the Illini within one, 8-7.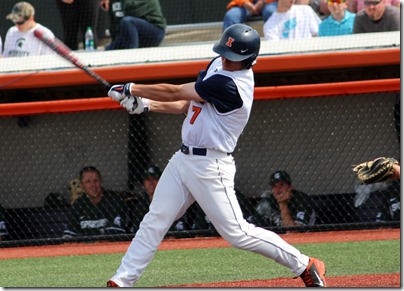 Reid Roper drives in a run in the seventh
By the bottom of the ninth, Tyler Jay had kept the Spartans to just one run and the score was 9-7.  It was Reid Roper again who breathed life into the Illinois offense by driving home Will Krug bringing Illinois within one.  With two outs and runners on second and third, Casey Fletcher hit the ball to left as he did last night, scoring both runs and providing the home fans a hometown victory they wouldn't soon forget.
Tyler Jay gets his 4th victory of the year and his second of the weekend.  Illinois is now 27-17 and climbs to 13-5 in the Big Ten.
Random Ramblings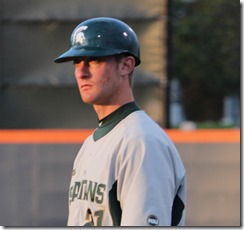 There were a couple of Michigan State baseball squad that may be of interest to some of you…  Long time Illini baseball fans will remember Illinois shortstop Shawn Roof who was one of the most popular players of his time.  His brother Eric Roof was the first base coach for Michigan State.  Eric was a former Spartan player as well.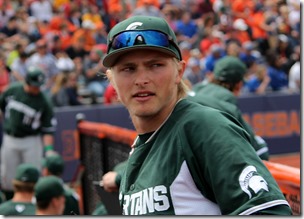 Also, MLB fans will most likely know the name Kirk Gibson, famous major league player and current manager of the Diamondbacks.  His son, Cam Gibson was the left fielder for the Spartans.
Next up
This was the last home weekend.  The Illini travel to Iowa City to play the Hawkeyes next weekend.
Great job, Illinois!!
Related posts