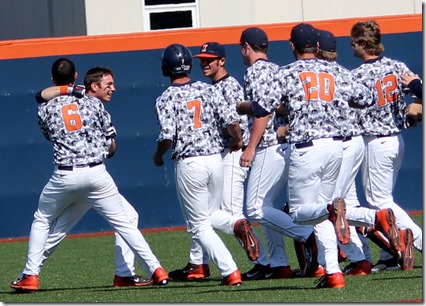 Saturday's hero Casey Fletcher gets a congratulatory hug from Adam Walton while other teammates get in line
Once again, Illinois performed a spectacular comeback show, defeating the Michigan State Spartans 5-4 with a key base hit by Casey Fletcher in the the bottom of the 10th inning. Indeed, the alumni who have come back for this weekend have seen what this year's Illini can do.  They know how to put on an exciting show.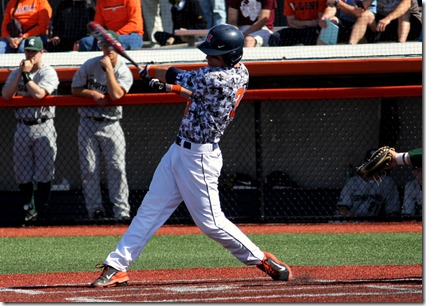 Casey Fletcher drives in the winning run in the bottom of the 10th
This is starting to become Casey Fletcher week.  And while he added two more homeruns today to add to his three dingers on Tuesday, it was his bases loaded single that made all the difference.  With the score tied in the bottom of the inning, Will Krug led off with a double.  An out later, David Kerian walked on four straight pitches and Reid Roper was hit by a pitch with two outs.  Casey Fletcher then lined one down the left field line to score Krug and hand the Illini the victory.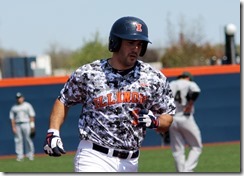 For the record, Fletcher was 3 for 5 with two homers and three rbis.  He now takes sole lead for most homers on the Illini with six.  Jason Goldstein (left) also hit a homerun in the sixth.  That key homer tied the game 4-4.  That was Goldstein's second homerun in two games and he now has three for the year.
As much as Casey Fletcher was the driving force behind today's win, Will Krug was sparkplug.  Krug went 3 for 5 and scored twice including the winning run. He raised his batting average to .319.
John Kravetz who has been tough all year, hung in there for the Illini keeping the score down.  I could tell though, he wished he could have put this game away for his teammates.
Now there isn't much I can say about Ronnie Muck's performance other than he simply got the job done.  Muck (right) pitched a lengthy four innings allowing just one hit and one walk.  Nicely, done Ronnie.  Muck more than earned his first win of 2014 today.
Illinois remains tied for second place in the Big Ten with Nebraska (12-5) and only three games behind first place Indiana (15-2).
Random Ramblings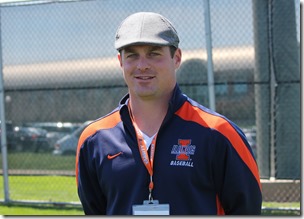 More alums:  Casey McMurray…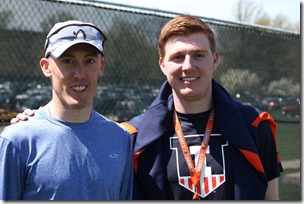 …and Craig Lutes and Will Strack
Of Illinois' 26 victories in 2014, 13 have been comeback wins… I got a chance to chat with a few more alums like Craig Lutes, Casey McMurray and Nick Chmielewski (spelled that right on the first try)… Speaking of alums, it was good to see the oldsters get their spot in limelight between innings today… Sunday is Senior Day, always a bittersweet moment.   The good news for our program?  We're only saying goodbye to three players (barring possible draftees). That bodes well for Illinois baseball in 2015.  Chase Hainline, Ronnie Muck, and Luke Joyce will be graduating.  Good luck them in the future!
More of my photos from today.  (including one of a feathered friend who flew overhead).
Next up
The Spartans are back for the very last home game at Illinois Field.  No word yet on a starting pitcher yet but rumors are afloat.  Game time is 1pm.
Go Illinois!
Related posts