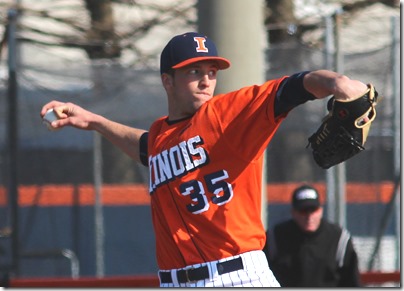 Support your local starting pitcher:  Drasen Johnson is 4-4 with a 2.30 ERA
You could say it was Illinois' biggest series of the year but even that is an understatement.  In some ways, this weekend's three game set against Indiana is one the highlights of the conference.  Imagine the two best teams facing off against each other and that's pretty much what you have.  Indiana is who is tops in the Big Ten and just recently hit the national college baseball rankings at #24.  Illinois is second in the Big Ten with a 9-3 mark and with some luck, could pass the Hoosiers in the conference standings. 
Indeed, it will be a series to watch.
Illinois fans looking for some historical reasons to be optimistic… the Fighting Illini lead the series history against Indiana 111-73-1 and we've been very lucky against them at home (62-28).  For good measure, we won our last game against Indiana last year. 
Coach Hartleb is going with what works.  According to the FightingIllini.com weekend preview, he's throwing the same three pitchers that have gotten him this far.  Drasen Johnson (4-4, 2.30) will work Friday's game.  John Kravetz (4-1, 3.00) is on the hill on Saturday and Ryan Castellanos (4-2, 4.43) will start on Sunday. 
Illinois Field

 

Champaign, Illinois

Fri. April 25

6:00 pm CT

Sat. April 26

3:00 pm CT

Sun. April 27

1:00 am CT

vs

26-11 (11-1 Big Ten)
I don't need to tell any college baseball fan just how good the Hoosiers are.  Since their College World Series appearance last year, they've been favorites to win the conference in 2014.  They haven't proved anyone wrong by getting off to a 11-1 start in the Big Ten season (their one loss was to Michigan in case you are interested).  If their conference record doesn't impress you, maybe their RPI ranking of #4 in the nation will. 
But the one thing about the game of baseball is that anything can happen provided that there is the will.  If there is a key series for Illinois this year, so far, this one is it. 
Following this weekend's games
I encourage every Illinois baseball fan to make it out to the games this weekend (and bring a friend!).  If you can't though, you can follow the games via GameTracker or its new Mobile Live version.  WDWS will be broadcasting at AM1400 with Dave Loane and Co. behind the mike.  As always, here's the Twitter feed for @IllinoisBaseball. 
Bleacher Bum BBQ!
It's time for Illinois Baseball's annual Bleacher Bum BBQ!  Before Sunday's game you can enjoy the fun, food and maybe a win, too!  This year, the first 500 fans at Sunday's game will enjoy barbecue provided by Hickory River restaurant.  Free mini-helmets will be given away for the first 1000 fans as well. 
Come out and enjoy the festivities!!
See you at the ballpark!
Related posts