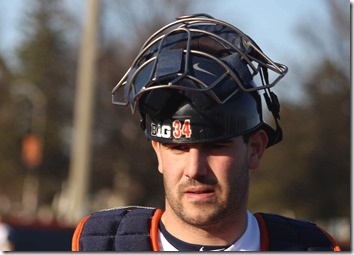 Catcher Jason Goldstein takes a team leading .377 batting average into this weekend
This weekend, the Illini baseball team travel to State College to reverse their recent downward trend against Penn State (17-16, 5-3 Big Ten).  After winning ten of eleven games, Illinois (18-14, 6-3) has now lost three straight including a 6-2 loss on Tuesday against Illinois State.
Pitching matchups have been announced for the weekend.  Coach Hartleb isn't deviating from his mound personnel but he is moving John Kravetz (3-1, 3.05) to the Saturday slot and Ryan Castellanos (3-2, 4.41) to Sunday.  Drasen Johnson (4-4, 2.40) seems to have the Friday spot down pretty solid. 
Adam Walton has continued to hit through the dry spell.  He has a 14 game hit streak going.  After starting the season 0 for 20, he is now hitting a nifty .314. 
Medlar Field at Lubrano Park

State College, Pennsylvania

Fri. April 18

5:30 pm CT

Sat. April 19

1:00 pm CT

Sun. April 20

11:00 am CT

vs

17-16 (5-3 Big Ten)
Penn State started out the conference season with a 4-0 record but since then have lost three of four games.  We can thank the Buckeyes for that.  They took the Nits for two games last weekend. 
With a similar win loss record, the Nittany Lions look comparable to the Illini.  They have solid hitting though not much power even compared to Illinois.  They've been out-homered 15 to 3 so far this year.  However with some exceptions, they do have good pitching and very good speed.
Look out for OF Steve Snyder who is hitting .374 for the year. 
Following this weekend's games
You can follow the games at Happy Valley via GameTracker or its new Mobile Live version.  Sunday's game will be broadcasted on Big Ten Network's BTN2Go.  WDWS will be broadcasting at AM1400 with Dave Loane and Co. behind the mike.  As always, here's the Twitter feed for @IllinoisBaseball. 
Go Illini!
Related posts