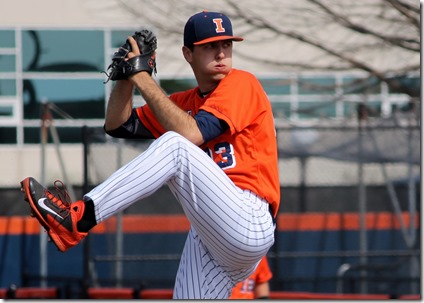 John Kravetz improves to 5-1 after his victory against #24 Indiana
Behind the superb pitching of junior John Kravetz and a key hit by transfer Casey Fletcher, the Illini (23-16, 10-4 Big Ten) join Michigan as the only team to beat Indiana (27-12, 12-2 Big Ten) in conference play.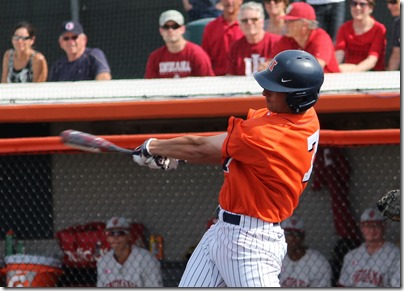 Reid Roper sets the table with a base hit in the second inning
Offensively, it was pretty much over by the second inning.  Indiana scored a run on a sac fly in the top of the second inning to take the first lead.  In the bottom of the inning, Jason Goldstein and Reid Roper led off with back-to-back singles. A walk to David Kerian then brought up Casey Fletcher who doubled home two runs to put Illinois up 2-1. 
The rest was then up to John Kravetz…
It had to be a little unsettling to pitch to the #24 team in the nation that has the best offense in the conference especially with just a one run lead.  It didn't show with John Kravetz who spread out six hits and three walks in 7 1/3 innings.  Even after getting hit in the chest with a batted ball in the fifth,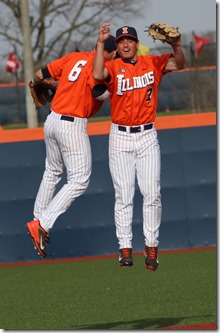 Kravetz picked back up and continued on. 
When Kravetz was finally pulled in the eighth inning, I could tell his reception in the dugout was just a little more heartfelt.  A fine job, Mr. Kravetz!
After Ronnie Muck got one Hoosier out, Tyler Jay was handed the ball by Coach Hartleb.  With a runner on second, Jay struck out the batter to get out of the hairy situation.  While the ninth was a little too interesting with two Indiana baserunners, Jay pitched a scoreless ninth for his 7th save of the year. 
That last at-bat was a bit scary though.  With two runners, slugger Sam Travis hit a fly ball which prompted almost every Illinois fan to gasp (except for the fan next me to me who lamented, "Oh no, it's out of here".  Fortunately, Will Krug caught it at the warning track. 
Today's win gives Kravetz a nifty 5-1 record and he now sports a 2.75 ERA. 
Random Ramblings:  In case you weren't there, we've had absolutely perfect weather for baseball these past two days.  Let's hope it continues for Sunday… You'll see an 'E' by David Kerian's name in today's boxscore but don't get too down on him.  He certainly atoned for that.  He made a couple of very good plays in the field afterwards… Reid Roper broke the 2014 team record for assists in Friday night's loss with eight…  Former Illini shortstop Thomas Lindauer is now playing close to his hometown.  He homered twice for the Quad Cities Bandits last week.  … Today's attendance was a healthy 1609. 
Got some pretty good photos today.  You can see them all here. 
Next up
The rubber game is Sunday at 1pm at Illinois Field.  Ryan Castellanos (4-4, 4.43) is on the hill.  Show up at noon if you want free food, though.  Sunday is Bleacher Bum BBQ!
Go Illini!
Related posts