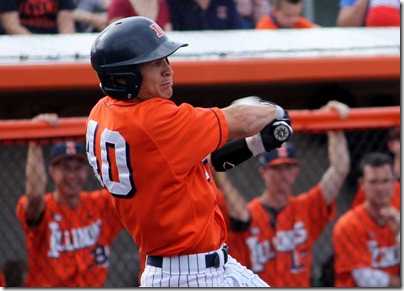 Will Krug's 3 for 5 performance wasn't enough to overcome Michigan's 17 runs
Before today, Illinois hurlers hadn't given up a run for 25 innings.  As I approached Illinois Field, I knew that win or lose, that streak wasn't going to last.  The winds were blowing straight out to centerfield.  As Rod, the friendly gate person said before the game, "We're going to have a football score today."  Indeed we did. 
The Michigan Wolverines defeated Illinois 17-9.  I'll give the Illini credit.  While they never had the lead, they at least made it interesting.  Michigan got off to 5-0 start by the first inning and were ahead as much as 10-3 in the fourth but Illinois kept at it.  As late as the 7th inning, Michigan's lead dwindled to 11-9 and with the blustery day anything could have happen.  Unfortunately, that was all the offense the Fighting Illini could muster by then.  Michigan kept at it though and added six more by game's end. 
The loss breaks the Illini's six game win streak and gives them a 6-2 Big Ten mark.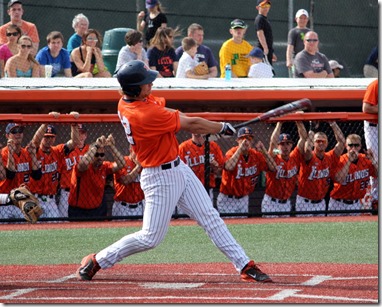 David Kerian's three-run homer in the third gave the Illini some hope
Obviously, there was plenty of offense on both sides today.  Michigan had 23 hits to go with their 17 runs.  That's going to do a number on Illinois' team ERA which they have been so deservedly proud of.  Going into this weekend, they had a 2.80 ERA but it's gone up to 3.15 now. 
That said, the Illinois hitters didn't give up and put some big numbers on the board.  David Kerian got things going in the third inning with a three-run homerun.   For the game, he was 3 for 5 with 4 rbis.  Will Krug went 3 for 5 and drove home two runs in the fourth inning.  Michael Hurwitz proved he can do more than walk when he doubled home two in that same inning. 
Ryne Roper also collected three hits (a career high for him) and scored twice.  Adam Walton extended his hitting streak to 12 games with a hit in the fourth inning. 
The pitching lines aren't pretty.  The first five pitchers that entered the game were scored upon.  Only Charlie Naso who was called on to mop things up in the ninth came through unscathed. 
I took some photos today.  You can see them here.   
Next up
The rubber game against Michigan is Sunday at 1pm at Illinois Field.  Last week's Big Ten Pitcher of the Week John Kravetz is scheduled to pitch for the good guys. 
and just to end on a more positive note….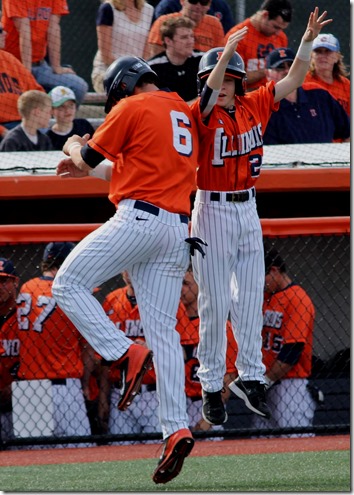 Go Illini!
Related posts