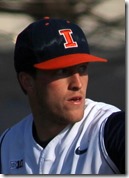 Drasen Johnson finally got the offensive support he deserved today not that he needed it all.  
In Evanston, Johnson (3-4, 2.74) struck out ten batters in seven shutout innings against Northwestern while his Illini teammates exploded for 13 runs.  The Northwestern defense didn't help their cause with five fielding miscues.   Illinois ended up winning 13-0, giving Johnson his third win of the season and Illinois a nice 3-1 Big Ten record and a 15-11 overall mark. 
The Illini scored seven of their runs in the middle three innings on host of Wildcat errors and pitching mistakes.  All told, there were four unearned runs and an astounding TWELVE walks given up by Wildcat pitching today. 
Reid Roper (left) added a couple more runs in the ninth with his team leading fourth homer of the year… Will Krug is back on track getting three hits in the leadoff spot.  Krug has now collected seven hits in his last three games.  He's now hitting .322… Adam Walton made his one hit count.  He drove home two runs with a single in the 8th inning. 
Check out Jason Goldstein's linescore for today's game:
0 AB, 1 R, 2 RBI, 3 BB
I don't know if Wildcat pitchers were just being careful with Goldy who has been hot lately but he found a way to be productive regardless.  Those two rbis came as a result of two sac flies.  For that matter, Michael Hurwitz' line is almost as unconventional. 
3 AB, 2 R, 0 H, 2 SB, 3 BB
Then again, that's typical for Mr Hurwitz who leads the Big Ten in bases on balls. 
Next up
The Illini continue their series against Northwestern on Saturday.  Scheduled game time is 1pm at Rocky Miller Park.  Starting pitcher Ryan Castellanos (3-1) will get the call. 
Go Illini!
Related posts