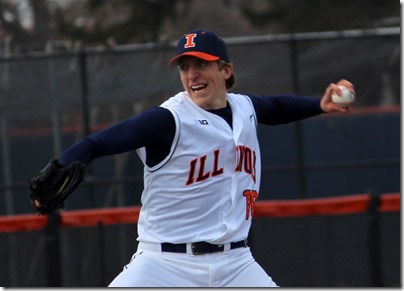 Rob McDonnell notches his first college win
Behind the strong pitching of Rob McDonnell and the bat of catcher Jason Goldstein, the Illinois baseball (8-9) won their home opener at Illinois Field today against the Indiana State Sycamores (14-3).  A common thread of discussion among the crowd was that pitching and hitting were finally jelling in the same game.  Everything seemed to go right as the Illini defeated the Sycamores 8-0.
There were a couple of big firsts in today's game.  McDonnell pitched five shutout innings for his first college win and Goldstein went 3 for 3 with his first college homerun.
Rob McDonnell's line for the game (5 IP, 3 H, 0 R, 2 BB, 6 K) really doesn't do justice to how well he was pitching.  From where I stood, he was fooling the Indiana State batters, making them chase pitches.  He had something going today and really deserved that first career win.  I'm hoping to see more of Robby in the future.
As for the bullpen, JD Nielsen, Cody Sedlock, Tyler Jay, and Ronnie Muck all pitched one inning and gave up one hit each but nothing more.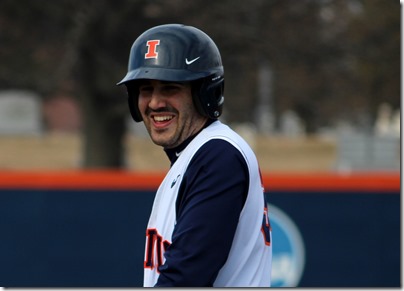 Happy day for Jason Goldstein with 3 hits and his first homer at Illinois
Jason Goldstein's 3 for 3 performance puts him at .404 this season. He joins Ryan Nagle in Illini's .400 club.  Nagle who got two hits today, is batting .422.  Reid Roper who is second on the team behind Nagle with 12 rbis, went 3 for 3 as well with a run and a rbi.
A two-run double by Goldstein was a key part of the four-run rally in the fifth inning.  Till then, the Illini were getting plenty of runners on base but were leaving runners on base.  That fifth inning rally pretty much sealed the win for the Illini and Goldy's homer to lead off the seventh inning was just icing on the cake.
Yes, I have photos!  You can see the photos I took at today's game here at the Illinois Baseball Report photo gallery.
Next up
If you missed today's home opener, don't fret.  There's a four game set at Illinois Field this weekend.  The Illini are playing host to Xavier with Friday's game starting at 4pm.
See you at the ballpark!
Related posts