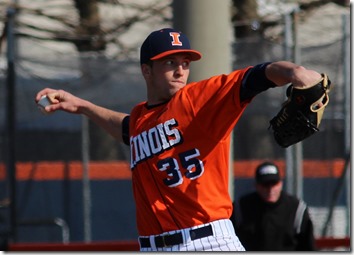 A hard luck loss by Drasen Johnson on Sunday
Illinois starting pitching was on target this weekend but that wasn't enough for the Illini baseball squad.  A lack of offense contributed to a sweep by the Western Kentucky Hilltoppers down in Bowling Green.  After an uplifting tournament a week ago, Illinois now stands at 6-7 with the three-game sweep by WKU. 
Despite the sweep, it was a tough series with a score differential of just four runs for all three games.  Illinois starting pitchers gave up only five runs in 18 1/3 innings against the Hilltoppers this weekend.  That was capped by a hard luck complete game loss by Drasen Johnson who only gave up one run on Sunday.  In contrast, Illinois hitters could only score six runs all weekend.
| | | |
| --- | --- | --- |
| Game #11 / March 8, 2014 | | |
| | vs | |
| 4 | | 3 |
Friday's game against WKU was postponed due to unplayable conditions on Nick Denes Field.  It was rescheduled to be played as part of a doubleheader on Saturday. 
Starter Kevin Duchene allowed just one run in five plus innings and Illinois' top two hitters in the lineup went 7 for 9.  That sounds like a recipe for victory but the bullpen couldn't hold Illinois' slim 3-1 lead.  The Hilltoppers scored three in the eighth inning to come out ahead. 
Will Krug banged out four hits and Michael Hurwitz contributed three more in the loss. 
| | | |
| --- | --- | --- |
| Game #12 / March 8, 2014 | | |
| | vs | |
| 5 | | 3 |
In the second game of the doubleheader, Illinois had the lead but it was even slimmer.  By the fifth it was 3-2 Illinois but WKU tied it in the bottom of the inning and pitcher John Kravetz earned an early exit. 
Illinois never did score again but Kelly Norris-Jones who was subbing for catcher Jason Goldstein due to the doubleheader, made a case for his presence.  He went 2 for 4 with a double.  David Kerian also homered for the first time this year, a two-run shot in the third inning. 
| | | |
| --- | --- | --- |
| Game #13 / March 9, 2014 | | |
| | vs | |
| 1 | | 0 |
Drasen Johnson who has been one of the most consistent starters for the Illini this season (2-1, 2.30), continued to shine on Sunday.  He spread out seven hits and two walks over an eight inning complete game and gave up just one run.  He still ended up with the loss. 
Illinois offense picked up just four hits in the game.  Two of those came from Jason Goldstein's bat. 
The Illini were in it till the end though.  With the score 0-0, an rbi double by the Hilltoppers in the bottom of the eighth sealed the Illini's fate for the weekend. 
So what next?
This puts Illinois at 6-7 and no doubt, Coach Hartleb and the boys have some work to do. 
The good news for fans is that Illinois baseball is coming back to our state.  No they're not playing at Illinois Field… yet.  Next weekend, they'll be playing Southern Illinois University in Carbondale.  Friday's game begins at 3pm.  Fortunately, it just might be warm enough to play by now. 
And for those counting, it's nine days till the home opener against Indiana State on March 18.  Mark your calendar!
Related posts