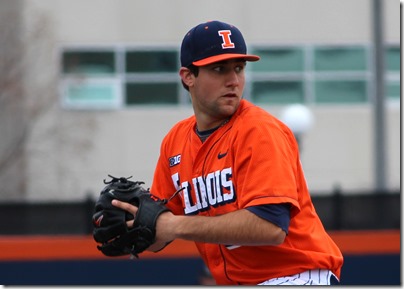 Ryan Castellanos scheduled to toe the rubber on Saturday
As I'm fond of saying this time of year, it's a whole new season.  Unless you follow the RPI rankings and such, the we start anew in the Big Ten and all games from here on out are what really count.  Not only is a new season from a standings perspective but conference baseball is a totally different brand of play.  It's more intense and more competitive.  Every game counts! 
With that in mind, the Illinois Baseball team (12-10 will take on the Purdue Boilermakers (4-16) at Illinois Field this weekend for three games. 
The FightingIllini.com weekend preview is up along with the probable starting pitchers. Drasen Johnson (2-3, 3.09) gets the nod for Friday afternoon.  Ryan Castellanos (2-1, 4.00) will take the hill on Saturday and on Sunday, Rob McDonnell (1-0, 2.89) gets his turn.
Illinois Field

Champaign, Illinois

Fri. March 28

4:00 pm CT

Sat. March 29

3:00 pm CT

Sun. March 30

1:00 pm CT

vs

2014 record:  4-16
Purdue had a rough season last year after their fantastic 2012 campaign when they won their first Big Ten championship.  They followed that up with a lackluster 17-34 record in 2013 with an even worse 5-14 conference mark.  There were rumors that things were going to change this year but so far against non-conference teams, they've put up a 4-16 record. 
That all said, of their four wins, three have come in the last eight days.  Purdue is showing some signs of life with the Big Ten season around the corner.  They've won three of their last five games. 
Purdue's pitching is a bit down to put it mildly.  Their team ERA of 6.97 is last in the conference.  For that matter, so is their .228 batting average.  Do watch out for Sean McHugh (.333, 3 HR) and Conner Hudnall (14 rbis) though who can contribute with the bat. 
Promotions this weekend include player autographs on Friday and Super Hero Day and post-game wiffleball on Sunday.
Following this weekend's games
If you can't make to Illinois Field, you can follow the game via GameTracker or its new Mobile Live version.  WDWS will be broadcasting at AM1400 for local folks and there will be live audio streamed (at cost).  
Speaking of which, they have now started to broadcast the play-by-play outside the Illinois Field press box during games.  Nice touch!  It's not incredibly loud but if you're near the press box, you can hear it fine.  There's nothing like hearing Dave Loane or Lee Zerrusen while watching the Illini. 
Go Illini!
Related posts