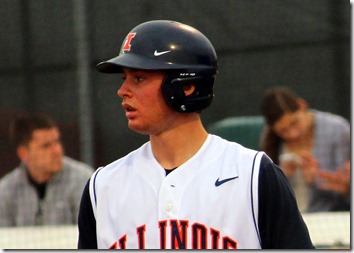 Ryan Nagle: Eight rbis for the season
With help from sophomore Ryan Nagle's bat, Drasen Johnson got his first win of the season against a tough Coastal Carolina baseball team.  Nagle helped the cause with a 3-run double in the fifth inning.  It wasn't easy especially coming off a disappointing 3-0 loss last night at the Baseball at the Beach Tournament against George Mason.  The Chanticleers did make a late game effort today.  However, Tyler Jay, who is showing that the Illini bullpen is as deep as projected, came through with a great ninth inning effort. 
The win today puts Illinois at 2-3 for the season and they face UConn for the last game of the Baseball at the Beach Tournament in Myrtle Beach, SC tomorrow. 
A quick recap of Friday's and Saturday's games:
| | | |
| --- | --- | --- |
| Game #4 / February 21, 2014 |   |   |
| | vs | |
| 3 |   | 0 |
Kevin Duchene pitched another hard luck game and the Illini offense just couldn't get going as they took it on the chin against George Mason 3-0. 
Duchene struck out seven batters in seven innings and allowed three runs in the fifth inning, the only runs he would give up.  The Illini actually out-hit the Patriots 6-5 but just couldn't take advantage as they left runners in key positions during the game. 
Good guys:  Kevin Duchene's line:  7 IP, 5 H, 3 ER, 7 K, 2 BB and unfortunately, one loss; Josh Ferry pitched a perfect eighth, striking out one batter; Reid Roper contributed a triple; David Kerian put out for a double
| | | |
| --- | --- | --- |
| Game #5 / February 22, 2014 | | |
| | vs | |
| 5 | | 4 |
In today's game, Illinois got off to a 5-0 lead by the fifth inning but the Coastal Carolina Chanticleers pecked away till it was a one-run game.  Thankfully, reliever Tyler Jay closed it out with a perfect ninth with two strikeouts for his second save of the season.  Starter Drasen Johnson pitched well allowing one earned run in 6 2/3 innings while striking out five and getting his first win of the year and his first win as an Illini starter.   
Good guys:  Ryan Nagle is a good reason the Illini maintained an offensive posture today.  Thanks to his 3-run double in the fifth inning, their 5 runs stood up to the Chanticleer late rally… Will Krug went 2 for 4 with a double and an rbi.  He's now hitting .435 for the young season…Give Ronnie Muck some credit.  While he did give up a run in the eighth, he got Illinois out of a jam in the seventh with two outs and two runners on.  It only took him two pitches to induce a groundout.  
Next up
On Sunday, the Illini look to finish the weekend with a .500 record.  They'll be taking on Connecticut.  This is a change from the original schedule due to weather concerns.  The Huskies are 1-3 but they're coming off a big 2-1 walk-off win against tough Wichita State today.  John Kravetz is on the hill for the Illini.  Game time on Sunday is scheduled for 9am CT.
Go Illinois!
Related posts