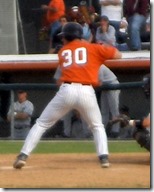 Wow, this is exciting news!
Former Illini and current San Diego Padres catcher Chris Robinson is coming back to his alma mater to speak at the annual Hot Stove Banquet.  Held on January 18th and jointly sponsored by the Illinois Baseball program and The Dugout Club, the Hot Stove Banquet is considered the kickoff for the Illinois Baseball season.  What better way to begin than with one of the legendary catchers of the recent era!
Robinson played for Illinois from 2003-2005 and capped his college career with a 2005 Big Ten Championship for the Illini.  That year, he was drafted by the Tigers in the 3rd round (highest ever at the time) and did his time in the minors playing for four organizations in nine years.  This year though, he got his break when the Padres called him up to the bigs.  He made his presence known with a homerun with three games left in the season. 
Robinson was named All-Big Ten first team twice and is still ranked #17 with a .347 batting average for the Illini.
Robbie is also known for playing in the international circuit for Team Canada.  He represented them in the 2002 World Junior Baseball Championship, the 2003 Baseball World Cup, the 2006 and 2013 World Baseball Classic, the 2009 Baseball World Cup and the 2011 Pan American Games. 
For those interested in attending the Hot Stove Banquet, you can read more about it at FightingIllini.com. 
Quick details
Where: I Hotel (map)
When: January 18th  2:30 cocktails, 3:30 banquet
Cost:  $50
To register, fill out the registration form on the Fighting Illini website. 
Related posts