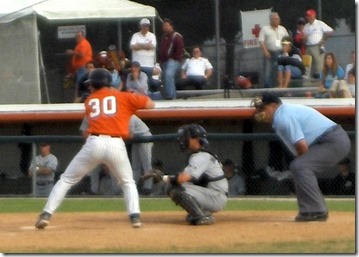 It was less than two weeks ago when it was announced that former Illini catcher Chris Robinson made the jump to the Major Leagues.  Unfortunately for Robinson, that stint lasted all of three days. 
Those of us Illini fans who remember Robbie when he played for the Illini have been secretly (and maybe not so secretly) rooting for him to make to the bigs for years.  When I heard he made it, I was pretty happy for him.  After all, nine years is a long time to play in minors and not see "the show"…especially for a player with Robinson's considerable talents.
But the dream ended pretty quickly, at least for time being.  The Arizona Star posted a pretty insightful article this past week on Robbie's three days with the San Diego Padres and his return to the AAA Tucson Padres. 
Not too surprisingly, Robbie is looking at it with optimism tempered with a little bit of realism: 
"Any year you get older, it makes it even more difficult.  But, you try to persevere through that kind of stuff and everything else you have to deal with and just play ball. That's what I've been doing this year. It's funny, when you expect it, it doesn't seem to happen, and when you least expect it, it does. So, it's a funny game."
Though he never appeared in a San Diego Padre game, it seems Robinson won't forget his MLB experience:
"It was great, you know, you make it to the big leagues. It was a dream come true and a pretty exciting time for me and my family and everyone who's followed my career over the last nine years or so."
Will Robinson get another chance with a big league club?  Time will tell.  It's been posited that his three-day stint with the Padres certainly helped put his name on the map in some small way.  It also doesn't hurt that Robbie is a defensively gifted catcher which is perennially in demand in the majors. 
Good luck, Robbie!! 
Related posts