Four University of Illinois Baseball players have been chosen in the 2013 MLB Draft.  Joining Justin Parr who was picked in the 8th round are three more Illini players, Jordan Parr, Thomas Lindauer and Kevin Johnson. 
Taking a look at each player: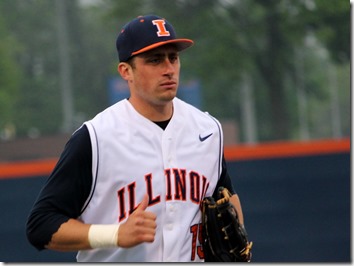 | | |
| --- | --- |
| Justin Parr | Outfielder |
| Philadelphia Phillies | Round 8, Pick 241 |
As mentioned yesterday, Justin Parr was the heart of the Illinois baseball team.  He hit a Big Ten-leading .398 behind his 33-game hitting streak.  Batting third in the lineup for most of the season, Parr ignited the Fighting Illini offense and kept the garden in check as well with a perfect fielding percentage. 
For his efforts, Parr was honored many times over.  Most notably, he was recognized as the 2013 Big Ten Player of the Year.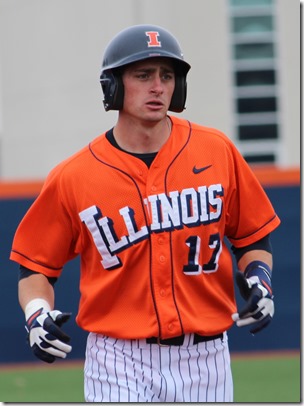 | | |
| --- | --- |
| Jordan Parr | Outfielder |
| Arizona Diamondbacks | Round 15, Pick 450 |
This is the second time Jordan Parr has heard his name called in the MLB draft.  He was picked by the Dodgers in 2012.  When Jordan decided to come back for the 2013 season, Illini fans were quite happy.  As good as Justin Parr is, his twin brother may be just as good.  Hitting in the fourth spot, Jordan has shown to be a solid, five tool player and can just as easily steal a base as hit one out.  The Dodgers will be sorry when Parr eventually shows up in their division opponents' lineup.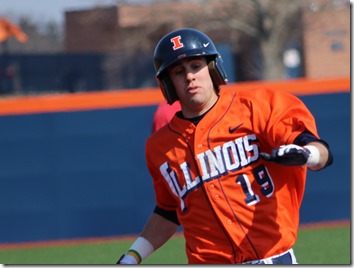 | | |
| --- | --- |
| Thomas Lindauer | Shortstop |
| Houston Astros | Round 23, Pick 677 |
Thomas Lindauer came up as a fast, scrappy gloveman at short.  Then in 2013, he showed he could hit for power as well giving Illinois just what they needed.  Lindauer ended up hitting 9 homeruns for the 2013 season, tied for the team lead. 
In 2013, Lindauer was named to the All-Big Ten First team.  A piece of trivia:  Lindauer is the second shortstop chosen by the Astros in the last five years.  Brandon Wikoff was taken in 2009 by the 'Stros.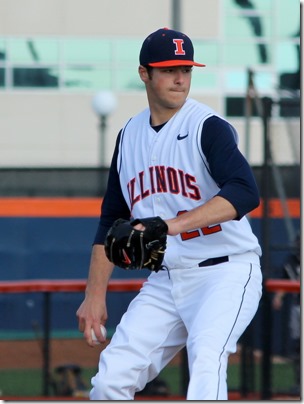 | | |
| --- | --- |
| Kevin Johnson | Starting Pitcher |
| Oakland Athletics | Round 24, Pick 731 |
Finally, it's not surprising that Kevin Johnson was tabbed in the MLB Draft.  He was picked by the Yankees in last year's draft but like Parr, he chose to return for this season.  Without stretching the truth, it can be said that Johnson has been one of the most stable starting pitchers in Illinois history.  A Friday starter for the last three years, Johnson has been the go-to guy for a win for Coach Hartleb and indeed, he has racked up more innings than any other Illinois hurler in history. 
—
In addition, Alex Greer, who signed with the Illini, was also drafted.  Greer was picked in the 29th round (885th overall) by the Cincinnati Reds. 
Congratulations to the draftees!!  Good luck in the future!
Related posts