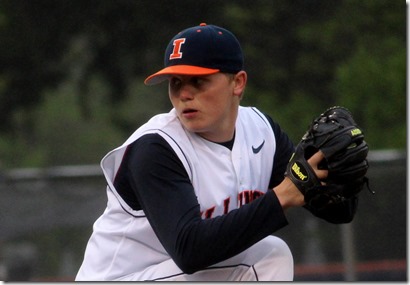 Kevin Duchene mowed down the opposition in Friday's contest
Wow! We just need about five more games like these and we might be set. 
Kevin Duchene pitched one of the best performances we've seen this season tonight against Penn State.  Throwing a complete game two-hit shutout, Duchene struck out 11 PSU batters and kept them hitless until the seventh inning.  He won his team-high seventh game with Illinois' 9-0 win over Penn State.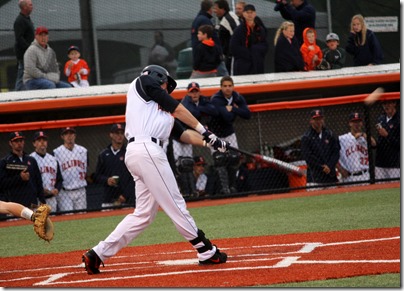 Justin Parr launches one…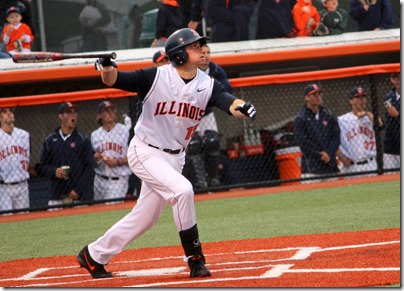 …and watches it sail toward the right field wall.
In addition, Justin Parr extended his hit streak in a big way, going 3 for 5 including his sixth homerun of year which started the ball rolling for the Illini in the third inning.  Parr's streak is now at 32 games, highest in the NCAA.
| | | |
| --- | --- | --- |
| Game #44 / May 10, 2013 | | |
| | vs | |
| 9 | | 0 |
Parr may have gotten things going in the third but practically everyone got into the action in the fourth when the Illini offense batted around the order.  Illinois put together seven hits and seven runs thanks in part to doubles by Davis Hendrickson, Michael Hurwitz and David Kerian plus key rbi singles by Thomas Lindauer, Jordan Parr, and Brandon Hohl. 
By then, it was 9-0 and it was up to Duchene to just get the Nits out… and he did that just fine.  Not only did he bring the no-hitter into the seventh and allow just two hits for the game, he only allowed only one walk.  I mentioned the eleven strikeouts, right? 
Nice job, Kevin!!
More photos from tonight here.
Big Ten Watch
With tonight's win, Illinois is now 29-5 and 10-9 in conference play.  Here's how their primary Big Ten competitors, Michigan and Michigan State, did tonight:
Random Ramblings
According to FightingIllini.com, Duchene's 11 Ks is the highest strikeout total since his coach, Drew Dickinson struck out 12 against Bucknell in 2002. 
When Justin Parr hit his two-run homer in the third inning, I exclaimed to the group around me, "Game Over".  That received a few guffaws.  Let the record show that I was right.  :)
Don't forget, Illini baseball cards will be available at Saturday's game.  Here's a sneak peek at what they will look like. Just save a pack for me, ok?
Next Up

Saturday's game at Illinois Field against Penn State will begin at 1:05pm.  Ryan Castellanos (who apparently is very psyched) will be on the mound.
Go Illini! 
Related posts