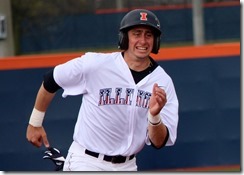 On the eve of the Big Ten Baseball Tournament opening day, the conference awards were announced and the Fighting Illini were represented quite well.  For starters, Illini players wrapped up two big awards. 
First the big news, centerfielder Justin Parr was named Big Ten Player of the Year.  Following that up, starting pitcher Kevin Duchene was honored as Big Ten Freshman of the Year. 
In addition, Parr was named first-team All-Big Ten and was joined by shortstop Thomas Lindauer and firstbaseman David Kerian.  Duchene was selected as second-team All-Big Ten as well as leftfielder Jordan Parr.  Catcher Jason Goldstein joined Duchene on the All-Big Ten Freshman Team.
How good was Justin Parr this year?  We all know about his 33 game hitting streak which was the all time team best and second-best in the nation in 2013.  But there is more.  He led the Big Ten in hitting and was 3rd in the nation with a .415 batting average.  Not only that he paced the conference with 51 rbis, 85 hits, and 125 total bases.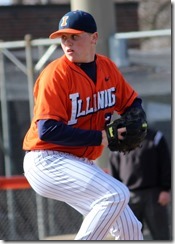 Kevin Duchene who was 8-1, tied the Illini record for wins by a freshmen with teammate John Kravetz who did it just last year.  His 2.67 ERA was just eighth in the conference.  Most importantly was how Duchene performed down the stretch, though.  His 1.74 ERA against Big Ten foes was third best in the conference and he won two key victories in the last two weeks.  
David Kerian batted .331 and really seemed to have a knack for hitting in the clutch.  His 20 steals were sixth in the Big Ten.  Thomas Lindauer played excellent defense as usual but he also came on with a big surprise bit of power this year.  In addition to hitting .310, he hit nine homeruns which was good for second in the Big Ten.  Jordan Parr scored 46 runs, third in the Big Ten and also stole 22 bases again third in the conference. 
Freshman catcher Jason Goldstein came through as a real offensive threat (the ball seemed to jump off his bat!) and really seemed to handle himself well behind the plate.  His 11 runners caught stealing in conference play led all Big Ten catchers. 
Here is the full list of the Big Ten of award honorees.  Congrats to all!
ALL-BIG TEN FIRST TEAM
C – KYLE SCHWARBER, IND
1B – David Kerian, ILL
2B – Pat Kelly, NEB
SS – Thomas Lindauer, ILL*
SS – Kirby Pellant, OSU*
3B – Dustin DeMuth, IND
OF – Justin Parr, ILL
OF – Michael O'Neill, MICH
OF – Chad Christensen, NEB
DH – Scott Donley, IND
SP – AARON SLEGERS, IND
SP – DJ Snelten, MINN
SP – Tom Windle, MINN
RP – TRACE DEMPSEY, OSU
ALL-BIG TEN SECOND TEAM
C – Kurt Schlangen, MINN
1B – Sam Travis, IND
2B – Zach Morton, NU
3B – Jacob Cronenworth, MICH
OF – Jordan Parr, ILL
OF – Eric Toole, IOWA
OF – Jimmy Pickens, MSU
DH – Michael Pritchard, NEB
SP – Kevin Duchene, ILL
SP – Joey DeNato, IND
SP – Luke Farrell, NU
RP – Scott Effross, IND
ALL-BIG TEN THIRD TEAM
C – Cole Martin, MICH
1B – Kash Kalkowski, NEB
2B – Connor Schaefbauer, MINN
SS – Michael Basil, IND
3B – Blake Headley, NEB
OF – Andy Henkemeyer, MINN
OF – Rich Sanguinetti, NEB
OF – Kyle Ruchim, NU
DH – Blaise Salter, MSU
SP – Andrew Waszak, MSU
SP – Brad Goldberg, OSU
SP – Brian King, OSU
RP – Ryan Halstead, IND
ALL-BIG TEN FRESHMAN TEAM
C – Jason Goldstein, ILL
1B – JOSH ESTILL, PUR
2B – Nick Ramos, IND
SS – TRAVIS MAEZES, MICH
3B – Jacob Cronenworth, MICH
OF – CAM GIBSON, MSU
OF – JAMES COATES, PSU
OF – Kyle Johnson, PUR
DH – KYLE WOOD, PUR
SP – Kevin Duchene, ILL*
SP – Will Coursen-Carr, IND*
SP – Evan Hill, MICH*
SP – Jordan Minch, PUR*
RP – Scott Effross, IND
Unanimous honorees in ALL CAPS
*additional honoree due to tie
SPORTSMANSHIP AWARD HONOREES
Alex Lincoln, ILL
Michael Basil, IND
Ricky Sandquist, IOWA
Patrick Biondi, MICH
Jordan Keur, MSU
Ryan Abrahamson, MINN
Bryan Peters, NEB
Trevor Stevens, NU
Ryan Cypret, OSU
Luis Montesinos, PSU
Robert Ramer, PUR
PLAYER OF THE YEAR
Justin Parr, ILL
PITCHER OF THE YEAR
Aaron Slegers, IND
FRESHMAN OF THE YEAR
Kevin Duchene, ILL
COACH OF THE YEAR
TRACY SMITH, IND
Related posts