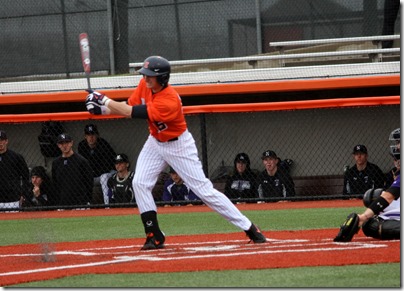 26 games in a row:  Justin Parr's infield hit to short breaks the record.
Just as the game between the Illini and the Northwestern Wildcats began on Saturday afternoon, it began to rain.  It was a little mist at first but a steady rain soon followed.  The bad weather didn't dampen the Illinois bats though.  They scored plenty, plating 12 runs against Wildcat pitching and winning 12-3.  With the win, Illinois (25-13) evens their conference record at 7-7.
And in case you're wondering, Justin Parr DID break the all time record for consecutive games with a hit.  With a dribbling infield single to the shortstop in the third inning, Parr makes it 26 in a row breaking Ryan Snowden's former record.  Parr is probably happier than anyone to get the record out of the way so they can focus on winning ball games.   Justin, congratulations on the great effort! 
| | | |
| --- | --- | --- |
| Game #38 / April 27, 2013 | | |
| | vs | |
| 12 | | 3 |
With the win, John Kravetz is now 4-1
John Kravetz pitched a fantastic game.  He spread out ten hits over seven innings and the net result was just three Wildcat runs.  He struck out seven batters and walked one.  Andrew Mamlic did a fine job out of the pen pitching two scoreless innings.
Justin Parr had more work to do once he broke the hit streak record.  In fact, both Parr brothers contributed greatly to today's effort.  Justin was 2 for 4 with three rbis while Jordan Parr was 2 for 4 with two rbis which came on a bizarre bases-loaded hit and error by the Wildcat left fielder which cleared the bases.  
Reid Roper ended up with two doubles on the day while Thomas Lindauer went 3 for 5 with a double. 
More of my photos here.  Not too many today…  It was awfully wet. 
Random Ramblings
I really enjoy talking to Catherine Kravetz, John's mom.  On days, that her son is pitching though, she is somewhat nervous.  She tells me that she watches her other son, Jeremy Kravetz who pitches in high school in the morning then hurries down here to watch John.  I suppose I'd be on edge too.  Unlike some moms, who sit in the bleachers, Catherine paces back and forth and chats with everyone.  Fortunately today, the Illinois offense gave John plenty of support. 
More alumni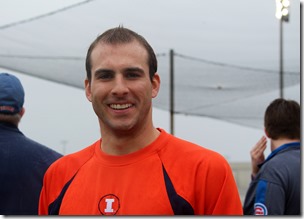 I got to see some more old friends today.  I was happy to see former Illini thirdbaseman Dom Altobelli at the game today.  He came up to me and we chatted about old times and caught up on what we've been up to.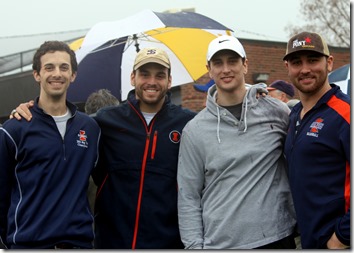 How many of these former players do you hard core Illini fans remember?  From left to right, it's John Anderson, Wes Braun, Pete Cappetta and Mike Giller.  Seems like it was just yesterday when we saw these guys on the field.
Next Up
Sunday's game at Illinois Field will be at 1pm.  I'm seeing conflicting reports on the weather but what I'm seeing right now is partly sunny in the 60s so I'm hopeful. 
Freshman Ryan Castellanos is slated to be on the mound for "Honor and Serve Day". 
Go Illini! 
Related posts