The Illini get a little defensive help from Brandon Hohl today
It was a wild and wooly win for the Illini today against the Purdue Boilermakers.  While Ryan Castellanos earned his second win in a row, Justin Parr hit for the cycle and Reid Roper hit his third homer in three days. 
That all added up to a 17-6 romping of the Boilermakers giving Illinois the sweep for the weekend.  More importantly, it gives them a 5-4 Big Ten record and pushes Purdue down into oblivion. 
| | | |
| --- | --- | --- |
| Game #32 / April 14, 2013 | | |
| | vs | |
| 17 | | 6 |
The Fighting Illini picked the right date for their Bleacher Bum Barbeque.  There were a lot of stories behind the 17-6 win. 
– If you ask any of the players, I'm sure they'll tell you the the biggest thing to come out of this was the big win against a conference opponent.  That gives the Illini a 5-4 conference record going against Ohio State next weekend.  It doesn't hurt that three losses against Purdue makes them 4-8 now and really struggling for postseason play.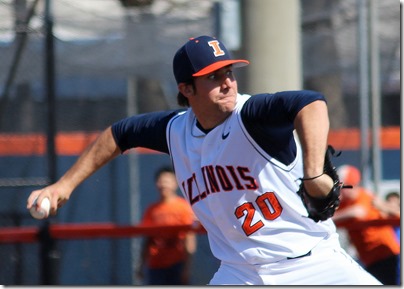 Second win in a row for Ryan Castellanos
-Ryan Castellanos vindicates his start against Indiana last weekend.  That was no fluke.  He gave up four runs against Purdue but in all, it was a fine start and worthy of his second career win.  He spread out seven hits and one walk over six innings and is now 2-0 for the season. 
-Just like Friday, every Illini starter got a hit.  Heck, almost every player almost got a hit in the eighth inning alone.  The Illini started the inning by getting the first nine batters on base (Jordan Parr walked, the rest were hits).  In all, eight runs scored before the first out was made.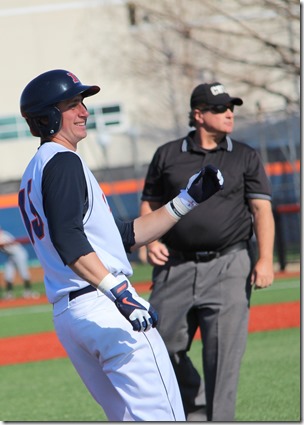 Justin Parr relaxes on third after hitting his cycle-completing triple
-Justin Parr extended his hitting streak to 20 games and how!  Parr doubled, homered, singled and tripled in that order.  His hits mattered too as he drove home four runs and scored four runs himself.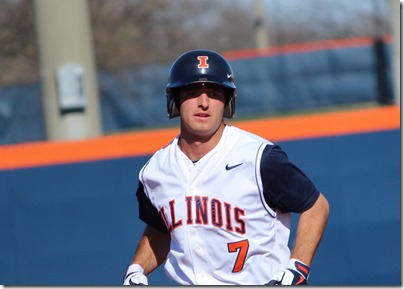 Reid Roper rounds the bases after his HR on Sunday…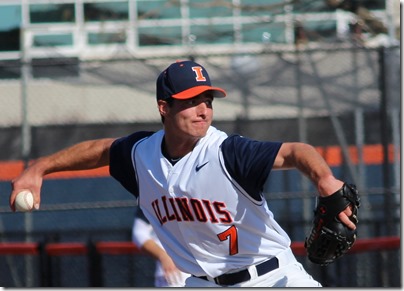 …then closes the game down.
-Reid Roper came into this weekend with no homers for the season.  Then in each game, he hit a homerun in each one.  Has he found his power like Thomas Lindauer?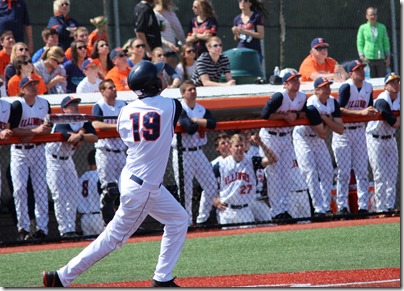 The look on the guys in the dugout tells you where this ball hit by Lindauer is headed
-Speaking of, if you think Thomas Lindauer could go another game without hitting another homerun, think again.  He hit his eighth homerun, a solo effort, in the second inning.  That now leads the Big Ten.  Brandon Hohl also added one to the cause for his third of the season.
Great effort guys!!
Lots of photos from today here.
Random Ramblings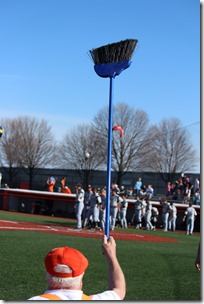 I could sense a different attitude in the dugout; a very positive, "there's nothing that can't stop us now" attitude. Quite frankly, that's the kind of thing we need to see.  It was obviously contagious as the fans picked up on that and adopted their own attitude as well.  Nothing nasty but good humored baiting of the other team.  Let's keep that up! Nice to see a crowd of 2,754 today, too!
I hesitate to even bring this up for fear of jinxing it but I wonder if the Big Ten will finally recognize one of our players this coming week.  Illinois is 22-10 and has yet to have a player be named a conference player of the week, pitcher of the week or freshman of the week for 2013.  With our sweep of Purdue and plenty of choices (Roper, Parr, Kerian even Lindauer), I think the chances are good we'll see an Illini up there somewhere. 
Next Up
This week, we have a rare out of town midweek game at Illinois State.  The Redbirds have been tough in the past with some heavy hitters.  This year, they are 18-15 and sport some big sluggers. 
Game time is at 6pm at Duffy Bass Field. 
Way to Go Illini! 
Related posts