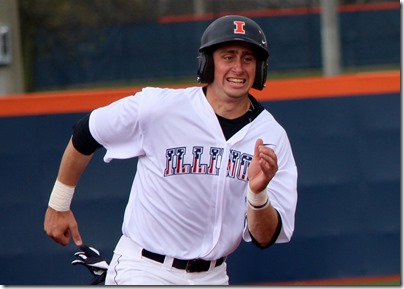 Justin Parr advances to third in today's victory against the Wildcats
Sunday's conclusion of the Illinois-Northwestern series at Illinois Field included just about everything… a Justin Parr hit (two, actually) to extend his hitting streak, a comeback for the Illini (26-3, 8-7 Big Ten) and a perhaps too-exciting-but-successful-nonetheless save for Bryan Roberts. 
Illinois won the game 5-3 keyed by a three-hit, four run rally in the eighth inning.  Ronnie Muck got his second win of the day while Bryan Roberts earned his fourth save. 
| | | |
| --- | --- | --- |
| Game #39 / April 28, 2013 |   |   |
| | vs | |
| 5 |   | 3 |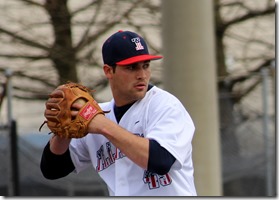 The Wildcats got to starter Ryan Castellanos for two runs in the first inning but #20 eventually settled down keeping the opposition scoreless for the next three innings before getting relieved by Ronnie Muck (left).  With the score 3-2 going into the eighth, the Illinois batters got to work on Northwestern's starter Zach Morton.  Before he was gone, he was tagged with five earned runs and eventually the loss. 
Morton gave up a leadoff walk then a hit to Jason Goldstein.  One out later, Michael Hurwitz drove in the tying run with a key hit which scored both runners.  Hurwitz ended up on third due to a NW error which prompted the Wildcats to intentionally walk Justin Parr.  Fortunately, Parr had already gotten a hit today or there would have been a lot more booing than there was.
Brother Jordan Parr made them pay though with an rbi single.  Brandon Hohl got an insurance run with a sac fly making it 5-3. 
Going into the ninth, Bryan Roberts came in for the save.  His line looks pretty good… 1 IP, 0 H. 0 R, 1 BB, 1 K.  I'll tell you it was a lot more complicated than that.  With the walk, an error and a hit by pitch, the bases were loaded before Bryan's work was done.  But B-Rob can go home a happy man because he's got another save in the book. 
Nice job, guys! 
Random Ramblings
Reading the paper this morning, I was a little disappointed in the News-Gazette coverage of Justin Parr breaking the record of the hitting streak.  I had to turn to page 5 of the sports section before I could read anything about it. 
C'mon N-G!  We're in the middle of the Big Ten season, our team just won a game and one of our best players just broke a team record and is still ranked among the active NCAA players.  I know college baseball isn't a "revenue sport" but throw them a bone, huh?
Next Up
Southern Illinois University is coming to Illinois Field on Tuesday night.  Gametime is 6:05pm.  Illinois swept SIU three games back in mid-March. 
Go Illini! 
Related posts