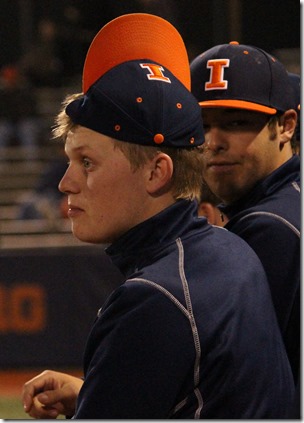 Kevin Duchene hopes his rally cap with induce some Illini runs
Friday night, Illinois and Northwestern were locked in an back-and forth extra-inning battle.  The Wildcats eventually won the game 4-3 in 13 innings.  For a few innings though, I saw some of the most exciting baseball at Illinois Field this year. 
Justin Parr did tie Ryan Snowden's team record of 25 consecutive games with a hit.  It was close.  Parr didn't get his hit until the ninth inning when he singled.  That was a key hit as he eventually scored the tying run forcing the game into extras.
| | | |
| --- | --- | --- |
| Game #37 / April 26, 2013 | | |
| | vs | |
| 4 | | 3 |
Kevin Johnson was scratched for Friday's start.  Rumor has it that KJ is having a little shoulder issues would be out for the weekend.  Fortunately, we had Kevin Duchene ready to go and he pitched really well.  He allowed just 5 hits in 6 2/3 innings giving up one earned run.  By the end of eight innings, it was still just 2-1 Northwestern.  The 'Cats Luke Farrell was pitching a masterpiece.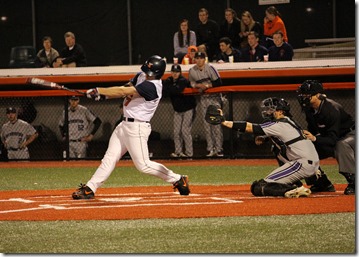 Roper responds with a game tying sac fly
Then it became a crazy house at Illinois Field.  With Justin Parr leading off the bottom of the ninth by getting his hit, the Illini offense mounted a rally. With runners on second and third, Northwestern decided to intentionally walk David Kerian.  Reid Roper responded with a sac fly which was enough to get the Illini to the next frame. 
With Bryan Roberts on the mound in the 10th, Trevor Stevens hit a solo homer to retake the lead.  Illinois responded in the bottom half by scoring one of their own with Jordan Parr driving home Thomas Lindauer. 
The score remained the same through the 11th and 12th innings then Northwestern put one up in the 13th on a Jack Havey homerun.  Kyle Ruchim who was pitching his fifth inning of relief for the Wildcats by now, got through the 13th and chalked up a win for the visiting team.  Bryan Roberts got the loss and is now 3-2 on the year. 
Random Ramblings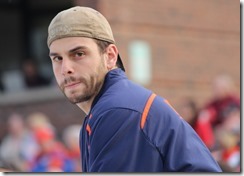 There were quite a few Illini baseball alumni in the crowd Friday night including former Illini pitcher Wes Braun (left).  Apparently, his dad was there too.  I didn't get a chance to see him but I certainly heard him.  "Make him work, kid!"
Brandon Hohl got his 200th hit in Friday's game according to Wayne Hohl.  With a little help from Ronnie Muck who convinced the batboy to switch the balls with the umpire, Wayne was able to procure the ball that Brandon hit.  Nice work, Ronnie and congrats, Brandon! 
Speaking of Ronnie Muck, that was quite a relief appearance he made last night.  In 1 2/3 innings, he struck out three batters but only pitched three balls in his whole appearance. 
Next Up
Time for some catching up to do.  Illinois takes on the Wildcats at 3:05pm at Illinois Field.  John Kravetz who is due for a win, is on the mound. 
Go Illini! 
Related posts