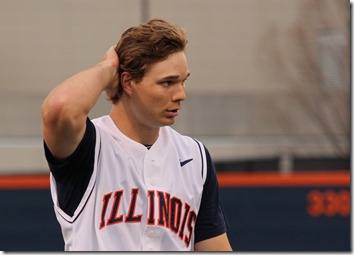 David Kerian and the rest of the Illini hope to gain some ground in the Big Ten this weekend
Illinois has their chance to improve on their 2-4 Big Ten record this weekend as the Purdue Boilermakers come to town.  While the Illini's 2-4 record is nothing to write home about, consider that they've played the top two teams in the conference if you are to believe the pre-season polls, Indiana and Nebraska.  It'll be a breeze from now on, right?? 
Well, maybe.  Purdue may be 11-19 overall but they are the reigning Big Ten champions and that must count for something.  Overall, the Boilermakers play hard and don't give up. 
Pitching assignments have been announced and looks like my hunch was right.  Aside from the usual Friday/Saturday spots of Kevin Johnson and John Kravetz respectively, it looks like Ryan Castellanos will be rewarded for his performance against Indiana on Sunday.  This will be his first start on home territory and I'm excited to see him. 
Illinois Field

Champaign, IL

Fri. April 12

6:05 pm CT


Sat. April 13

3:05 pm CT  

Sun. April 14 (Bleacher Bum Barbeque!!) 
2:05 pm CT 

vs

 
11-19, 4-5 Big Ten
Here's an interesting data point on Purdue:  they are 1-7 at home while they are 7-9 at an opponent's stadium.  Almost wish we were playing them at West Lafayette.  Almost.  
Actually, Purdue has done well to win 11 games so far this season.  Just looking at the stats, their numbers rank as low and Indiana's rank high.  Purdue has the lowest batting average in the Big Ten (.244) and the highest ERA (6.17). 
The Boilermakers are most definitely a young team.  Three freshman, Josh Estill,  Jordan Minch, and Kyle Johnson have already won Big Ten Freshman Player of the Week this season.  Johnson also took home Co-Player of the Week honors, as well. 
Random Ramblings
Make sure to get out to Sunday's Bleacher Bum Barbeque event on Sunday!  For the last four years, this year has drawn the most attendance of any other game all season.  Free food, prizes, fun, and a great ball game to boot.  The excitement starts at 1pm and the ballgame begins around 2pm. 
Former Illini pitcher Tanner Roark pitched six innings of no-hit ball for Washington's Triple-A affiliate, the Syracuse Chiefs.  The Chiefs beat the Lehigh Valley IronPigs 11-0. 
Finally, some good news with the weather.  It's been raining since Wednesday but forecasts say it will clear up by Friday afternoon.  Even better, Sunday looks to be a nice 70 degrees and sunny. 
Go Illini!!
Related posts