OF Will Krug leads the Illini in runs scored with 20
Illinois Baseball will finish out the month of March with a non-conference series this weekend against the Oakland University Golden Grizzlies.  The Grizzlies are coming off an 0-4 sweep at the hands of the Michigan State.  Meanwhile, Illinois (14-6, 1-2 Big Ten) hope to rebound after their 1-2 performance last weekend against the Cornhuskers in their home opener.   
Illinois Field

Champaign, IL

Fri. March 29

4:05 pm CT


Sat. March 30 (DH)

12:00 noon CT

3:00 pm CT

Sun. March 31 
12:05 pm CT 

vs

 
3-15
For those not familiar with the Oakland University Golden Grizzlies (that might not be surprising considering that Illinois Baseball has never faced them before), they are members of The Summit League.  The Illini have played a few current Summit teams in the recent past including South Dakota State and Western Illinois University. 
Oakland has gotten off to a pretty rough start in 2013.  They're dead last in the Summit League so far with a 3-15 record.  Looking at their stats, we can see why.  Their batting average is a paltry .185 to their opponents' .295.  More importantly, Oakland has been outscored by a 2-1 margin (121-55). 
So is this a shoo-in for the Illini?  No, I know better than to say that.  The Golden Grizzlies did manage to win two games against the Ohio University Bobcats two weekends ago.  Let's just say that this is a good chance for the Illini to build their confidence back up for their next weekend series against ranked Indiana. 
It's a four game series this weekend so we see the full gamut of probable starters.  Kevin Johnson is listed for Friday, Kevin Duchene and John Kravetz on Saturday and Nick Blackburn will finish out the series on Sunday. 
Random Ramblings
Fans driving to the park, take note… the Illinois Field parking lot will be closed due to the heavy snow dumped on us early this week.  According to FightingIllini.com:
"Due to the heavy snow accumulation this week, the grass parking lot will be closed for the entire weekend. Fans will be able to park in the northeast Assembly Hall lot and the Bielfeldt lot beginning at 3 p.m. on Friday."
Also in their weekend preview, FightingIllini.com also notes that Alex Lincoln's walk-off squeeze bunt on Saturday against Nebraska was the first walk-off hit since May 21, 2011. 
When I saw that piece of trivia, I knew immediately who hit that one.  It was Mr. Matt Dittman.  The homerun that Ditt clobbered helped Illinois clinch the Big Ten Championship in 2011.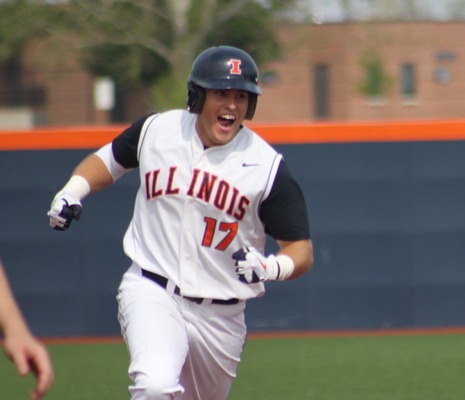 A look back to 2011: Dittman rounds the bases after his walk-off homer
The photo I shot of Matt that day rounding the bases is still one of my favorites to this day.  That smile!
Finally, if you can look past his 1-3 W-L record so far, freshman reliever Tyler Jay is racking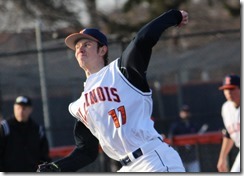 up some impressive stats.  Admittedly, it's a small sample size but opposing batters are hitting only .163 against Jay (right) and he's also struck out 15 batters in only 11 2/3 innings. 
He's been the victim of some defensive woes, occasional control issues just general bad luck.  I'd like to see what happens to Tyler Jay when he becomes a little more seasoned!
See you at the ballpark!!
Related posts