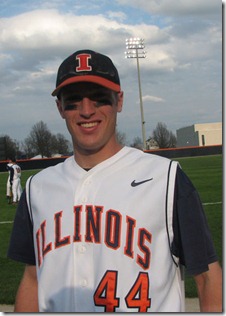 More good news for a former Illini baseball player.  For the second time in as many weeks, an Illinois alum signed a new minor league contract with an organization.
This time it was Shawn Roof.  From Baseball America:
Baltimore Orioles
Signed: RHP Adam Russell, C Jose Gil, C Jim Vahalik (Washington (Frontier)), 2B Shawn Roof, OF Conor Jackson, OF Buddy Sosnoskie (Fargo-Moorhead (American Association))
Last week, former Illini catcher Chris Robinson signed with the same Oriole team.   Both Roof and Robinson were former teammates for the Illini and played for the 2005 Big Ten Championship team.
Roof, who graduated in 2007 and was drafted by the Detroit Tigers, played for the Twins' AA affiliate New Britain Rockcats last year.  He hit .214 with 7 rbis in 50 games.  For my money, Roof was one of the hardest playing players I've ever seen, creating offense out of nothing.  Interestingly, his stats from his time at the AAA level are his best.  He hit .354 with a .441 OBP in AAA Toledo in 2010.
Perhaps the Orioles organization should take note.
Related posts
Filed under: Former Illini in the pros on December 9th, 2012 by: Thomas Nelshoppen