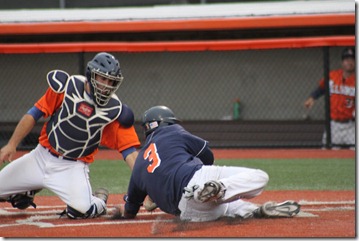 Brandon Hohl slides into home during Monday's game
Today was opening day for Illini baseball's Orange and Blue World Series.  It was cloudy but the temp was in the 60s and considering it was October in Illinois, definitely baseball weather.  Honestly, this is much better weather than some of the early April games I've been to.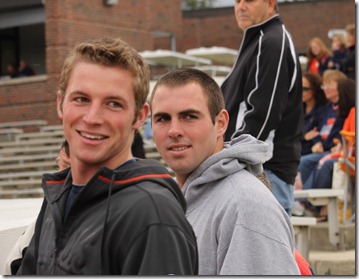 There was a fair crowd of 30 or so, mostly parents and support staff, but it was good to see fans in the stadium.  In fact, there were two very recognizable fans there who probably were used to being on the field.  Matt Milroy and Willie Argo (above) stopped by to watch the game.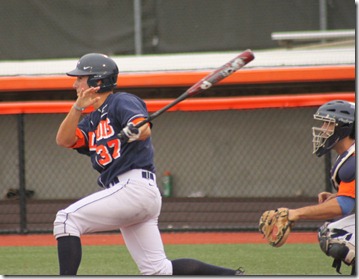 Freshman Zack Kolakowski at the plate for the Blue team
As I said before, the Orange and Blue World Series is a good chance for fans to see the new team in action.  However, it's also an opportunity for the coaching staff to experiment a little.  Brandon Hohl at short?  David Kerian at first?  It's a little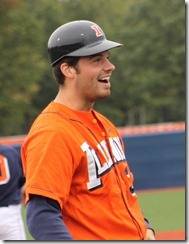 reminder that our players are still pretty versatile at this stage in their careers.
Also, with it being a intra-squad series, pretty much every player gets their chance to show off their stuff and I think the coaching staff appreciates that.
What was the score?  By the time I left, Blue was leading 2-1 so it was a pretty tight game.  I wasn't keeping a box score but I do know Brandon Hohl had two base knocks.
Lots more photos in my photo gallery.  Game Two is tomorrow at 3:30.
Related posts