Those in the Champaign-Urbana area may already be aware that Champaign Mayor Don Gerard has his heart set on bringing a minor league baseball team to town.  Last Tuesday's city council meeting, a proposal was narrowly passed to use city resources to study possible stadium site locations.  I attended the meeting and you can be sure there was plenty of discussion on the matter.
I wrote a pretty extensive article on Smile Politely on the topic including some quotes from Tony Johnston who is heading up the exploratory committee.
In other news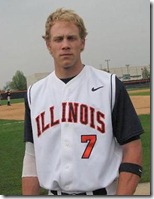 Congrats to former Illini catcher Lars Davis who was selected as one of two All-Stars for the Tulsa Drillers in the Texas League.  Davis is batting .280 with 7 HR and 40 rbis.  Not only that, he's made only one error.
More good news for Lars… he's been invited to the Arizona Fall League this season too.
***
Speaking of good news, I want to send hearty congratulations to former Illinois pitcher John Anderson who just got married two weekends ago.  I want to wish him and Ashley the best of luck in the future.
Related posts
Filed under: Former Illini in the pros, Off Season Happenings on September 13th, 2012 by: Thomas Nelshoppen