It looks like Purdue's stranglehold on the rest of the Big Ten is not going to let up. They've already clinched a spot in the Big Ten Tournament Championship game. They'll be playing the winner of the Michigan State/Indiana game today. There's more info at Big Ten Baseball's Tournament Central.
—
This very interesting link was passed on to me. It about a rumored change in Big Ten baseball scheduling including a possible summer schedule. Sounds like it's in the talking stage right now, though.
—
Good luck to former Illinois hurlers John Anderson and Wes Braun who are playing overseas.  They'll be playing for the Hoboken Pioneers in the Belgian League.  The website is in written in Dutch so good luck with that.
—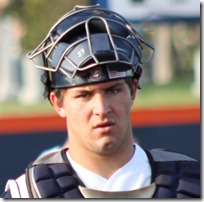 Former Illini catcher Adam Davis (left) is moving up too.  He just got promoted to High A ball and will be playing for the Frederick Keys.  Adam is already making a good impression going 5 for 12 in his first four games.
—
Finally, my latest column on the Illini for Smile Politely was published yesterday.
Related posts
Filed under: 2012 Big Ten Tournament, Former Illini in the pros on May 26th, 2012 by: Thomas Nelshoppen