Thomas Lindauer gets back to first safely
No weather concerns today.  No light outage dramatics either.  Just a nice simple win fueled by good pitching and plenty of offense.  Illinois defeated Ohio State Saturday in a little comeback style 8-3.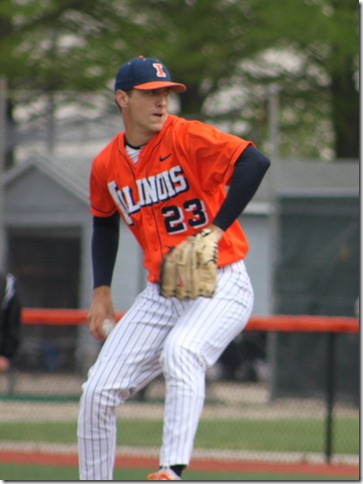 Kravetz earns his sixth win today
Illinois did draw first blood in the second inning when DH Will Krug drove home Jordan Parr with a nicely executed sacrifice fly.  That was the only run scored by either team until the top of the fourth when the Buckeyes managed to put together a rally.  Starter John Kravetz gave up four hits and three runs that inning to the Bucks.  No fear, those were the only three runs Ohio State would get all day. 
It didn't take long for the Illini to get back in the game.  They pecked away at the lead in the bottom of the fourth when they scored one run.  They did that without even getting a hit, thanks to two walks, a throwing error by OSU and another SF by Davis Hendrickson.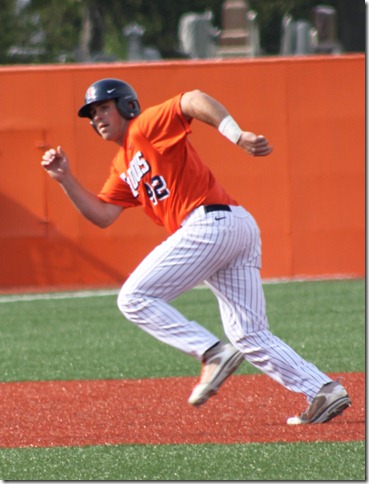 Willie Argo hustles toward third in the fifth inning
The next inning, Illinois tied the game with some heads-up base running by Thomas Lindauer.  Lindy got a single, stole second, then was grounded over to third.  Next thing you know, Jordan Parr drove him home with a base hit.  Lindauer was key in the two-run effort in the sixth inning, too.  His single drove home Hendrickson.  Lindauer stole second again then eventually scored on Willie Argo's base hit which was compounded by a Buckeye fielding error. 
By then, Illinois led 5-3.  In case that wasn't enough, Illinois added three more runs in the eighth inning.  Brandon Hohl banged out an rbi double and one at-bat later, Jordan Parr singled home two runs. 
John Kravetz gets the well-deserved win.  He's 6-3 for the season.  Matt Milroy and Luke Joyce did a great job out of the pen pitching 3 scoreless innings. 
Stat-Wise:  Thomas Lindauer:  3 for 3, 2 runs, rbi, 3 SB,  Jordan Parr:  3 for 5, 2B, 3 rbis, 2 runs, Matt Milroy: 2 IP, 4 Ks 0 ER. 
Next Up
The last game of the series is Sunday at 1pm at Illinois Field.  If we defeat them, we will overtake them in the standings if my math is correct.
See you at the ballpark!!
Related posts
Filed under: Game Recaps on April 21st, 2012 by: Thomas Nelshoppen